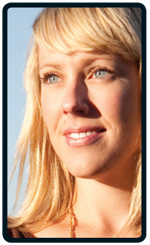 Miller is always on the lookout for the best ways to monetize new technology in the publishing world.
Megan Miller heads up Bonnier Corporation's newest R&D office in San Francisco. The idea was that the company needed someone in place to build closer relationships with the start-up tech firms and experts located around the Bay area. And that idea is paying dividends.
"In 2010 we launched Mag+, a system for developing digital magazines for tablet devices. What we're working on right now is adding layers of functionality to that system, so that we can increase the amount of engagement with the magazine," explains Miller. "One problem we see is that when people buy a magazine they read it once, but when people are buying apps for their iPad, they want something they can come back to again and again. So, with Mag+, they can share content across social media, create scrapbooks of their favorite visual elements and view stories across multiple devices."
Miller is constantly seeking innovative ideas. "We have a number of projects that we're working on regarding larger media innovations and we host Bonnier-sponsored innovative-thinking workshops in the Bay area," says Miller. "We believe that we need to look at what people on the cutting edge are doing, because change is coming to the media industry."
Miller's team is involved with various projects regarding next-generation apps. "We've been working together with ad agency Crispin Porter+ Bogusky on a research project to show how the tablet has changed the way people are consuming magazine content."
"Obviously, the media industry is still trying to figure how we're going to monetize apps and increase the audience for apps," she continues. Miller's team is working on creating a new type of advertising that will bridge the gap between creating demand for products like a traditional magazine ad does, and fulfilling that demand the way the Web does. The idea is to make to make the ads as exciting and entertaining as the editorial content, without creating confusion. And if past performance is any indicator, this idea will end up paying dividends for  Bonnier as well. 
VITAL STATS: Bonnier's research found that that readers looked at ads 21 percent more on the iPad than in print.