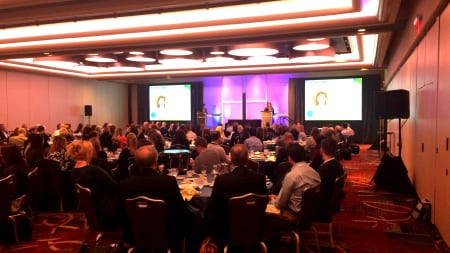 As part of the awards program at the 2015 Folio: Show, Oct. 19–21 at the Marriott Marquis in New York, professionals from all aspects of magazine publishing gathered together to acknowledge a select group of visionaries, innovators, influencers and rising stars whose distinguished achievements made a major impact on both the brands they serve and the industry as a whole.
Following a welcome reception on Monday afternoon in the exhibit hall, the Folio: 100 honorees—first identified in the October/November 2015 issue of Folio:—were recognized for their contributions. The group of C-Level Visionaries, Director-Level Doers, Corporate Catalysts, Industry Influencers and Up-and-Coming Trailblazers represents consumer, B2B, regional, enthusiast and association publishers large and small.
As Wednesday afternoon's conclusion to the Folio: Show drew near, attendees and guests again congregated in the hotel's Westside Ballroom to applaud the Folio: 30 Under 30—some of the magazine industry's most innovative and entrepreneurial rising stars.
View the full lists of honorees at the links below: