MediZine Acquires Healthcommunities.com

The deal boosts interactive revenues to 20 percent of overall.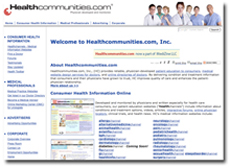 The healthcare media market just ticked off a rare, for these days,
acquisition. MediZine, a consumer health education media company,
bought Healthcommunities.com, an 11-year-old Web site that produces physician-developed content.
The deal, according to MediZine president Mike Cunnion, quickly
bolsters the company's online presence. "As the world has evolved and
consumers have relied on online information sites, that's been a
massive change in our world," he said. "For us, it related to a growth
strategy and becoming less reliant on one particular channel."
Cunnion noted that while the print brands reach doctors' offices and
pharmacy counters and 2.5 million homes, MediZine, until about 18
months ago, didn't have significant reach online. "We've been doing
organic efforts on our own, but we know what a long growth process that
is," he said.
Cunnion declined to revel terms of the deal, but said
Healthcommunities.com—which averages 1.5 million monthly uniques
viewing content in 30 patient communities formed around topics such as
oncology and allergies—will jump the interactive share of MediZine's
overall revenues to about 20 percent.
Key value drivers were the site's profit and ability to organically
attract and keep traffic. "The two things that helped us determine
value was a strong bottom line—there's actually a profit in the
business—and their ability to sustain and grow traffic online
organically," he said.
MediZine is a portfolio investment of Veronis Suhler Stevenson, which
is also an investor in Red 7 Media, the parent company of FOLIO: and
FOLIO: Alert.
Meet the Author
---