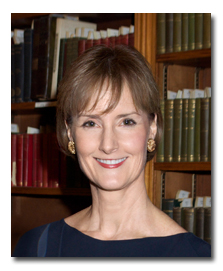 In less than a week, some of the world's top magazine-media executives will take the stage at FOLIO:'s annual conference, the MediaNext Show, hosted Oct. 29-31 at the Marriott Marquis in New York City. Formerly known as the FOLIO: Show, MediaNext is designed to provide the publishing industry with the best place to learn exactly that—what's next in media.
In fact, the MediaNext was programmed with the understanding that new and emerging media forms already have much in common with traditional forms, and there is a new definition of the media industry that encompasses both. That's what MediaNext is all about.
Here, MediaNext Show speaker Kate Kelly Smith (pictured), SVP and publishing director for the Hearst Design Group, provides a quick look at what's ahead in publishing. Don't forget to see Kelly Smith speak this Tuesday, Oct. 30 from 10:30-11:15 AM in the session "Using New Platforms and Brand Extensions to Create Audience Revenue."

FOLIO: What are some of the top challenges today as it relates to driving higher audience revenues?
Kate Kelly Smith: Today's challenge for audience development is to hold our readers' loyalty and attention in a rapidly changing marketplace that has an overwhelming amount of outlets for distributing content.

FOLIO: Where do you see the opportunities of the future when it comes to brand extensions? What unique things can publishers offer to clients and consumers?
Kelly Smith: Our brand future lies in what we at Hearst refer to as "Live Paper"—giving the consumer a new and interactive way to relate to our content. It begins in print and then extends to Web, tablet, and video and embraces all digital capabilities in an intelligent and integrated way that optimizes the audience experience.

FOLIO: Can you give some examples of successful new revenue opportunities House Beautiful rolled out through its product mix, both on the audience and marketer sides?
Kelly Smith: Our strongest marketing programs are born from editorial. At House Beautiful, our editorial team is leading the industry in seamlessly integrating our HB Connect technology (in partnership with Digimarc) into our pages to bring readers extended content in a pleasing and non-disruptive way. Based on editorial's successful track record and data that shows our readers are embracing this new "Live Paper" platform, marketing is extending these opportunities to our advertisers with programs that offer content extensions for their brand ads.
Not registered for the MediaNext Show? Click here. To check out the full program agenda, click here.