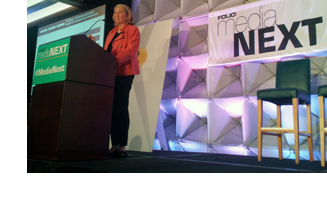 New York—Transitioning from one model to another is a difficult undertaking for any media publishing company. However, morphing within an industry in constant tumult is an entirely different situation. Online publishers are by nature media disrupters, as they do not follow the ink-and-paper path of the past. Nevertheless, they too have to continue to change and grow along with their market audience, making both intelligent and low cost adjustments to drive success.
 
Elisabeth DeMarse, chair, president and CEO of TheStreet, Inc., a financial news and services network, addressed that issue, plus her company's subscription model, extended contributor network and more on Monday as keynote speaker at FOLIO:'s MediaNext 2013 conference in New York.
DeMarse offered candid comments about downsizing her editorial staff and the expansion of TheStreet's contributor content model.
"When I came in, we went from 70 on staff to 15 and I filled in with the contributor content model," she said. "We pulled $2 million from the newsroom [costs]."
The contributor content model allows various industry voices to publish their insights directly on the company's site, which are then widely distributed across all TheStreet's media channels. Currently, TheStreet retains 100 content contributors* with plans to grow aggressively, according to DeMarse, but there is a "personal touch" from the editors that helps facilitate the exchanges.
"It's not a tsunami of content," she said. "[But] it's the way of the future."
Adjusting her company's advertising perspective, implementing cost-cutting measures and managing content and talent are the ways DeMarse was able to facilitate TheStreet's financial turnaround since joining the company over a year ago. In the second quarter of 2013, TheStreet generated $13.5 million, an 8 percent year-over-year increase.
One factor in that success was her ability to improve subscription revenues through acquiring The Deal, an institutional subscription business, and converting subscribers from TheStreet's free website.
"I came into the company saying we're going to grow through acquisitions," DeMarse said. "I am so happy and relieved we have a strong subscription base."
Acquisitions will be a key method for the company's ongoing growth, she said, adding that TheStreet Inc. has $60 million set aside for making deals.
DeMarse also noted that while some of her undertakings were difficult to build upon, they were better than the ad-supported revenue options too volatile for her liking.
"There is no such thing as a loyal advertiser anymore," she said. "The people on the buy side can't do ROI (return on investment). That's the dirty secret."
Correction: In an earlier version of this story, it was reported that TheStreet currently has 500 content contributors. They currently retain 100.