MediaMashup Round Up: Tips for Monetizing the Converged Landscape

Quick hit strategies from FOLIO: & min's premiere new event.
Many of the industry's most influential leaders joined together on Tuesday at FOLIO: & min's premier new event, the MediaMashup summit, to discuss the challenges, and solutions, currently facing both the traditional and emerging media landscapes.
The almost 200 media professionals in attendance were delivered a long list of actionable tactics and strategies on topics ranging from content marketing to mobile-first design. Here are some of the highlights from the day-long event. And for a slideshow, click here.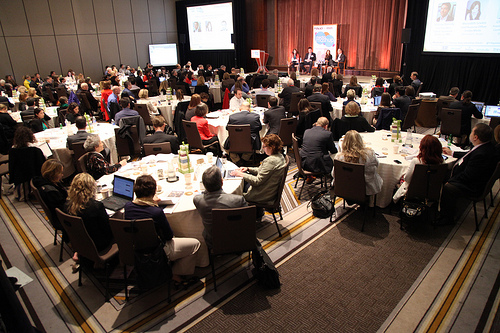 Opening Keynote | VC and the Impact of Media-Industry Disruptors
• The revenue model of the contemporary media has to shift to attract investment from venture capitalists, Matt Marshall, founder and editor-in-chief of VentureBeat, said. "Investment is needed whether you're a lone reporter or a multimillion dollar business," he said. "Investment and scale over time, as far as I can tell, is the recipe for success." Marshall cited three emerging media companies—Thrillist, Lucky Magazine and Buzzfeed—that are making the transition to what he termed a "new era" of publishing.
See Also: Investment and Revenue Models Changing at MediaMashup
Online Content Marketing: Getting Ahead of a Fast-Changing Art
• "Content marketing is an investment whereas advertising is a spend," morning panelist and McMurry/TMG's vice president of digitial experience Andrew Hanelly said. "The difference is that investing in content provides long-term value and advertising spend is gone when the campaign has ended. Case in point: an article you create in 2007 can rank in search engines and have social relevance for years if it's authoritative and definitive."
• "People don't go onto the internet every day and say, 'I want to read ads' but they do look for content," added Hanelly. "Content is the preferred method for people to learn about brands and products. People don't read ads, they read what interests them. Sometimes it's an ad, the rest of the time it's content. In fact, the best ads actually are content in disguise—think of a funny commercial, or a fact-based science museum ad campaigns."
• Meredith Levien, chief revenue officer at Forbes Media, counseled on how publishers should be working brand messaging into content marketing projects. "There's an opportunity for marketers to add value to a conversation that consumers are already having—and publishers should care because they're already having those conversations with consumers. The work for the publisher is to figure out how to bring a marketer into that conversation in a way that's organic."
How Media Companies Can Master the Digital Advertising Era and Maximize Ad Revenue

• Online advertising has traditionally been created to scale for the messaging itself, rather than engagement. Engagement is the true measure of success. Integrate social with content to drive engagement.
• Own your data: Know more about your readers than anyone else (and leverage that information). A robust technological underpinning is a key driver of success.
• Differentiation is also essential—not just from competitors. Online you have a lot more competition than those you might view as direct competitors. Find the channels that are endemic to your audience to maximize revenue.
Building Audience, Traffic and Revenue Through a Partnership Network
• For David Kang, chief digital officer at Wenner Media, succeeding with content partners is about expanding on niche areas your readers are already interested in. As part of Wenner's partnership with Yahoo, Rolling Stone has built out several franchises that have broad appeal, but leverage existing relationships and content strategies. "The challenge is in bringing a boutique quality to the massive scale of Yahoo," he said.
• Rolling Stone has built a new content franchise called the Artist Timeline. Loosely based on the Facebook timeline, Rolling Stone is collecting magazine covers and other archival content for a chronological look at a particular artist, said David Kang.
• Lucky editor-in-chief Brandon Holley advised publishers to take a critical look at their content syndication partnerships. The way readers are accessing content is constantly changing. Focus on syndication partners that have a high value audience. Lucky has de-emphasized this strategy as syndication-related referral traffic declined from 12 percent in Q1 2012 to 5 percent in Q1 2013. instead, the brand has ramped up its community efforts and social media experimentation to boost referrals.
Afternoon Keynote | Get Comfortable Being Uncomfortable: Exploring the Shifting Publisher and Advertising Paradigm
• In his mid-day keynote, Seth Demsey, SVP global advertising products and strategy at AOL, described what's behind the significant rise in video content at the company. He pointed out that in 2011, about 2 percent of the pages at The Huffington Post featured video content. By 2013, that shot up to 85 percent. "As the  methods of content consumption change from a primarily desktop-based environment to one that's more tablet and phone-based, video play rates are actually increasing," he said. "That was the driving force behind why we put more video up."
The Mobile Tsunami: How Native Monetization is the Wave of the Future
• Mobile is part of a larger content convergence happening in the marketplace "I can't tell anymore where a brand's piece of content starts and where a media owner starts. It's all converged," said Steve Rubel, executive vice president, global strategy and insights at Edelman. "Media brands are setting up content studios to work with marketers and you also see marketers building their own content and going out on their own."
• Haley Romer, associate publisher at The Atlantic, noted that Atlantic Media has set up a "mobile task force" with representatives from around the company to lend perspective and strategic insight for mobile initiatives.
• Adam Solomon, vice president of digital products at Time Inc., said the term native means different things to different people. Some associate native advertising with simple advertorials, others look at it as an experience tied to a specific platform. Make sure your definition lines up with expectations in your marketplace. At a minimum, however, native advertising has to blend well with its surroundings. "For native ads, context matters," he said. "If it's in your way, it doesn't feel native."When it comes to mobile, create content that can be easily consumed. Start with social to enable virility via the mobile Web. Don't be afraid to experiment. Use in-house resources and create unique offerings that leverage technology.
Skipping Web–First and Building a Mobile-First Business
• Industry Dive CEO and co-founder Sean Griffey noted that being mobile-first does not mean mobile-exclusive. While the mobile platform is growing quickly, it's still important to keep the audience perspective and platform preferences front and center.
• For b-to-b publisher embarking on a mobile strategy—look to email first. "It's your number-one product," said Griffey. Make sure your email content and messaging is optimized for mobile.
• "Can you make money in mobile?" is the wrong question, counseled Griffey. The real question is whether you'll be able to make money without a mobile product. Brand marketers are becoming increasingly savvy with their mobile advertising options and can spot poor mobile products a mile away.
Closing Keynote | Connecticut Governor Dan Malloy—Building an Ideas Economy
• Six weeks ago the state launched a new initiative with the University of Connecticut to build a digital media school. The state of Connecticut sees media as a growing industry, and NBC Sports' main production and broadcasting team recently moved to Stamford, CT in attempt to go toe-to-toe with ESPN, which is also located in the state.
• Connecticut recently passed legislation that requires online retailers to pay sales taxes due to the fact that some online retailers are now doing two times more business than initially estimated. "They're putting a lot of pressure on brick and mortar retailers," said Gov. Malloy. "People in this audience are starting to charge for content, things are evolving relatively quickly and the rules we thought applied 10 years ago don't anymore."
Stay updated on the latest FOLIO: news, follow us on Facebook & Twitter!
Meet the Author
---