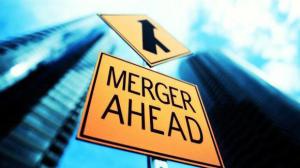 The overall volume and cumulative value of mergers and acquisitions on both the consumer and B2B sides of the media and technology sector remained mostly steady in 2016, according to investment bank JEGI's annual M&A overview.
JEGI tracked 88 mergers and acquisitions in the global B2B media and technology sector last year, a slight decrease from the 93 deals completed in 2015. Added up, deal volume jumped exponentially — from $6.2 billion in 2015 to $32.9 billion last year, according to the report — but that figure is overwhelmingly skewed by Microsoft's $29 billion acquisition of LinkedIn, completed in December. Another major deal in the B2B space was Informa's $1.56 billion purchase of Penton, in September.
On the consumer side, volume was also relatively flat, down 3 percent to 194 deals in 2016 — from 201 in 2015. Deal value tumbled 39 percent to $16.4 billion, which JEGI attributes to the absence of "mega-deals" like those observed in 2015 — including Media General's $3.1 billion takeover of Meredith Corp., an agreement that ultimately deteriorated in January when Media General chose to merge with Nexstar instead.
A slowdown in M&A activity was most evident in the exhibitions and conferences space, where JEGI tracked 66 deals worth a cumulative $3.3 billion, down 23 and 12 percent year-over-year, respectively. Unsurprisingly, UBM led the way with a string of acquisitions culminating in a $485 million December purchase of Allworld Exhibitions, a trade show organizer operating in Asia and the Middle East.
Notably absent from the JEGI report are any deals of major consequence in the magazine industry, especially on the consumer-facing side. Complex Media was still in the game when Hearst and Verizon acquired it for a reported $250 million in April, but alas, the brand's new owners left its print edition behind in 2016.
With a plethora of "inside sources" stoking the rumor mill with whispers of a potential Time Inc.-Meredith Corp. merger on the horizon, however, that could all change in 2017.
Looking forward, JEGI anticipates an increase in M&A across most tech and media sectors, citing an uptick in the Consumer Confidence Index, financial markets' favorability to a one-party sweep of the House, Senate, and White House, as well as historical leniency on the part of Republicans in approving mergers.