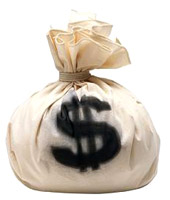 The U.S. stock market fell Monday following news that global investment bank Lehman Bros. filed for bankruptcy, and investment firm Merrill Lynch agreed to be purchased by Bank of America for $50 billion. But media stocks appeared to weather the storm.
By 5 p.m. EST, the Dow had fallen more than 500 points or 4.42 percent to 10,917.51. The S&P plummeted more than 59 points, or 4.7 percent—marking the largest one-day percent drop since the first session following the attacks on September 11, 2001. The NASDAQ was down 3.6 percent, or more than 80 points.
As Wall Street was left reeling—with analysts recalling Bear Stearns' collapse earlier this year—media stocks, so far at least, haven't seen a dramatic falloff. Time Warner stocks closed at $14.12, down a little more than 3 percent. Meredith Corp. was down 4.76 percent to $28. Playboy Enterprises stocks were down 1.27 percent to $3.90 and Martha Stewart Living Omnimedia stocks were down more than 1 percent to $8.03.
While these changes perpetuate an overall "gloomy" capital outlook, they shouldn't necessarily have an affect on magazine M&A.
"There are not any direct repercussions for magazine industry M&A," DeSilva + Phillips managing partner Reed Phillips tells FOLIO:. "Indirectly, though, the Lehman troubles confirm that the credit crisis and economic downturn are still impacting companies."