SEE ALSO: FOLIO: Video: Christian Science Monitor Publisher Jonathan Wells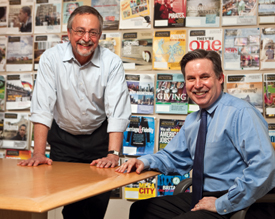 Today, most publishers are re-examining their business model, driven by the collapse in print advertising and a shift in their audience to new outlets. Many have gone online only, although with some exceptions—such as PC Magazine—that's typically a last gasp before folding altogether. Simply going online isn't the answer. The entire approach needs to be reworked.
The Christian Science Monitor received many headlines last year for a dramatic strategic shift that not only redefined how the publication serves its audience, but attempted to stem soaring net losses (which went as high as $18.9 million in its last year as a print daily) and eventually reach profitability. However, it was not, as many sources have erroneously stated, a shift to digital-only; in addition to an increasingly aggressive digital strategy, The Monitor went from daily newspaper to weekly magazine—with surprising success so far.
This article looks at how The Monitor is adapting and what its experience means for other publishers considering such a move. "We made a great leap into the future as part of a strategy to expand The Monitor's reach, control our costs and balance our budget," says editor John Yemma. "We came in better than expected in terms of circulation and print advertising revenue and posted a surplus (relative to goal) at the end of the first year of our multi-year plan."
The New Mission: "Help Me Get Smarter, Faster"
When people discontinued subscribing to The Monitor, they cited three things: The $209 subscription price, the lack of time to read and the shift to getting daily news online, according to publisher Jonathan Wells.
In an age when the print newsweekly is on the ropes, The Monitor reconsidered its value proposition. "We had to think long and hard about it," says Wells. "Our approach is a composite of the learning economy—we're serving people without a lot of time, who are trying to understand complex issues quickly, and contribute to a solution. As one guy here says, our mission is 'Help me get smarter, faster.'"
The Monitor looked at the larger market, including titles that ranged from The Week and The Economist, to magazines that appealed to The Monitor's own direct mail lists, such as Mother Jones and Utne Reader. "We never felt like we went up directly against The New York Times or The Wall Street Journal since they're on such a huge scale, but we have looked at what a number of other weekly magazines are doing," says Wells.
The Monitor kept in constant contact with its audience, conducting multiple surveys with more than 3,500 readers. That doesn't mean the process was without trial and error; by mid-2009, The Monitor knew it had reached a tipping point and needed to get back to hard news.
"It was clear to us that readers were telling us they were interested in a newsier approach," says Yemma. "We adjusted editorially, changed our work process and how we assigned stories. We had assigned an issue on comedy that was originally about Jay Leno and Conan O'Brien but took it back to the shop because we realized it had to have more of a news orientation—how does the comedy of John Stewart or Stephen Colbert affect the news and vice versa."
Certain elements are prompting tremendous reader response, such as The Monitor's Daily News Briefings, a paid ($5.75 per month) e-newsletter that offers a selection of the top stories of the day along with perspectives from the editors. "The goal is to give background on a core piece of information people think they should be aware of but don't really understand, such as a history of the Taliban," says Wells.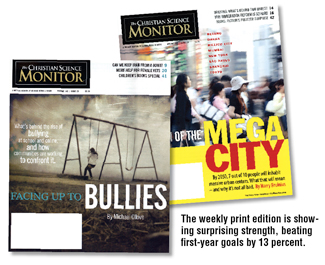 But with the impending sale of Newsweek—even after what many observers considered to be a successful redesign and editorial repositioning—what does that mean for a smaller title like The Monitor? "It gives me serious concern for the future of journalism when I see a name like [Newsweek] go up for sale," says Yemma. "From a changing marketplace view, we recognize the news magazine is as difficult as the newspaper market, but we think there's a place for something other than Time, The Economist and The Week. People who want aggregation just want to skim, so they choose The Week. People who have more of a business mindset choose The Economist. Our reader can come from the business world, but while The Economist is focused on the global business economy—and bless them for being so—our approach is to look at the human image. There is still a place in a world where people are 24-7 connected and news pours out of every mobile device and gas station pump for perspective. Newsweek tried that with their repositioning and we still think there's an opportunity for it."
The Monitor also thinks it has some advantages over big names like Newsweek and Time. "Our approach has been controlled circulation growth, intentionally not investing in newsstand sales, converting audience from daily to weekly and seeking out a particular audience demographic that can support a long-term circulation and advertising campaign," says Wells. "We have some cost advantages over publications like Newsweek. We think there will be an opportunity to provide a solution set in news information that's distinct from Time or The Week but we also have to stay really nimble. This space is evolving and the exact form that it may take could change over the next several years."
Adapting to a New Edit Workflow
Shifting from a print daily to a weekly magazine, along with a "Web-first" approach, required a major change in workflow. However, coming from a daily print frequency helped ease the staff into the transition, according to managing editor Marshall Ingwerson. "Mapping the workflow for a weekly magazine was a fairly complex one-time task, but adapting to it was fairly painless for a newsroom used to print and which had always had weekly sections," he says. "The main shift was to the higher production values and proofing standards for a weekly magazine than for a daily newspaper. In terms of content, we always had to think past breaking news to adding value and shelf life. This just torqued up the level of our game a bit."
The Web-first shift has been more radical. "The daily rhythms of newspaper life disappeared," says Ingwerson. "Staffing has been staggered to cover more hours of the day and week. No one is really ever off deadline. Reader feedback is almost immediate. We've all had to get our minds around the idea that for the vast majority of CSMonitor.com readers, our stories are not part of a branded, deliverable package. Our stories are atomized into the digital ether to appear alone as part of search engine results, aggregation sites, as links in blogs, on social media sites like Digg or Stumbleupon, or on a Facebook or Twitter feed. So we have to package each post to maximize its visibility in these channels. Those are new skills for most of the newsroom."
While there remains little cross-over with the print and online audience, the digital shift is boosting the print product. "When we do print stories, we try not to do them for the Web first since people are paying for print," says Yemma. "But as we've emphasized more Web-first thinking, that's influenced a lot of what we do in print, and we're looking at being much more timely. Our cover story on the recent British elections got between 40,000 and 50,000 page views over the first weekend it was out. In the past, we might have done a weekly cover piece that would have been O.K. on the Web but had no real benefit. Now, there's a two-fold benefit. We're not really changing the presentation or structure of the print story—we're thinking about timing more, what people are searching for, what people post during the day. This shows there is a synching up between Web and print if you keep the unique value to both."
Tech Infrastructure: How a $2.3 Million Investment Is Paying Off
As part of its revamped infrastructure, The Monitor increased spending on digital by $1.3 million (up 126 percent) in the last 22 months to a total of $2.3 million per year as of April 2010, according to finance and strategy director Donal Toole.
That included adoption of a new open source content management system called eZ Publish (also used by media outlets such as Cosmopolitan, CNBC and National Geographic France). "We chose it because it was simple and democratic—easy for non-techie journalists to learn and use," says Ingwerson. "It also has some flexibility and configurability."
Editors made their own workarounds as well. "Our print publishing system produces XML files, but we have found it simpler to copy and paste them into Web posts rather than automate the process," says Ingwerson. "The two platforms also demand radically different display copy. Print display type has context on the page, where the eye takes it all in together. Web display type needs to be search-engine friendly and make clickable sense with no context at all."
Meanwhile, cost savings on print production distribution and fulfillment with the shift to weekly are in excess of $3.5 million, according to Toole.
Audience Development Strategy: "Controlled Circulation Growth"
The Monitor managed to convert 93 percent of its daily subscribers to the weekly print edition, which gave it 43,000 subscribers at re-launch. Since then, the subscription base has grown by 63 percent for an annual average circulation above 70,000.
Print subscribers are slightly more affluent, with $83,000 in median household income (compared to $77,500 for online users). Print readers are also getting slightly younger: The daily Monitor saw males account for 41 percent of readership with a median age of 66 while the weekly magazine sees 42 percent of the readership at 59 or younger (however, it now skews 58 percent male).
"We are focused on bringing in the right customers through controlled, targeted growth," says senior marketing director Susan Hackney. "Our goal is to attract a loyal, engaged, highly-educated audience—and to grow intelligently, so as to avoid having to cut rate base in the future due to unprofitable circulation."
The Monitor is not pursuing newsstand sales. "We are not using newsstand sales, which tend to attract one-time (non-loyal) readers," says Hackney. "Also, it's hard to control demographics via newsstand sales."
Digital Outlets
Page views for CSmonitor.com have increased 49 percent from the prior year, from 76.2 million to 113.6 million. Politics, World, and USA account for 60 percent of CSMonitor.com pageviews.
"For the coming year, our baseline expectation is that page views will increase 44 percent from 113.6 million to 164 million (though we expect actual results to be significantly higher)," says Toole.
The Monitor's digital product lineup has grown to include the Daily News Briefing (which has about 3,000 paying subscribers) as well as free e-mail newsletters, which have 50,000 subscribers and offer the opportunity to upsell products such as the Daily News Briefing.
Monitor products (including the Daily News Briefing) are on the Barnes & Noble, Sony, and IREX e-readers with a Kindle version coming soon.
Ad Sales: Print Exceeds Expectations, Digital Falls Short
Circulation and print revenue accounted for $5 million of The Monitor's $6.4 million total revenue in 2009. And while overall print revenue dropped over the last year, it showed some surprising promise.
"In the past year, print revenue was a bit less than the prior year due to the shift from daily to weekly frequency and the reduction in available ad pages," says sales and online business development director Bob Hanna "Nevertheless, print revenue exceeded our expectations. Although we did not raise rates, the average revenue per page has increased about 25 percent, reflecting less discounting and price negotiation."
However, online revenue was less than what The Monitor forecast, according to Hanna. "General marketplace conditions, as well as a new sales staff, were contributing factors,"  he says. "CPMs for those campaigns sold by the Monitor staff have held about constant. Given the general downward pressure throughout the marketplace on CPMs, we are not discouraged by this."
The Monitor saves $80,000 per year on direct costs by outsourcing sales functions to rep firms such as James G. Elliott. "By outsourcing our sales team, we get a more experienced staff than we could afford to get on our own," Hanna says. "We also get additional resources that we couldn't afford on our own, including promotions assistance and research assistance."
Part of the plan is to reach out to a much broader base of prospective advertisers than ever before. Much of the focus has been on targeting those companies with corporate communications and advocacy messages. "We have always done well with philanthropic advertising and we have increased our sales efforts there," says Hanna.
Recent Monitor advertisers include Liberty Mutual Insurance, PBS, Smuckers, Viking Press, Penguin Books and Oxfam.
"What we want to accomplish with The Monitor is what we want to achieve with any partner: a covenant that exceeds the transaction," says Jim Dreesen, director of advertising at PBS. "As for their repositioning—it seems to be a fact everyone in media is, has and will be grappling and contending with the content, distribution and device explosion that is everywhere around us, and repositioning to compete. It is the major undertaking facing us all."
Emerging Revenue Streams
The Monitor is ramping up efforts to develop a portfolio of digitally-based products with specific content aimed at targeted audience segments. "The idea is, what assets do we have that could be premium content?" says Wells.
The Monitor Breakfast, which started in 1966, has brought together top Washington journalists and newsmakers for conversation on a weekly basis. Guests have included four presidents, five vice presidents, and about 3,600 other VIPs. Today the publisher has partnered with FORA.tv to videotape each breakfast.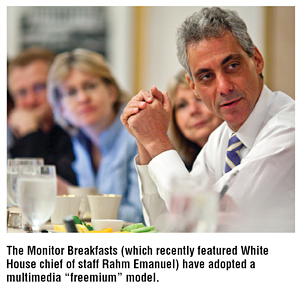 Starting May 17, a "highlights" video of each event will be available on CSMonitor.com, FORA.tv and its video syndication partner sites.  Full versions of the sessions are being made available on a subscription basis— $14.99 per month or $99 per year. This "freemium" product includes a paywall for a targeted audience. "Paywalls for few, not—as the NYT is doing—paywalls for all," says product manager Abe McLaughlin.
The Monitor has also started monetizing its photo archives through a partnership with Pictopia in which it has set up the Monitor Photo Store. "We are also considering other opportunities where The Monitor could create unique video content that would be of interest to our audience and create new sponsorship possibilities," says McLaughlin.
While The Monitor is trying to expand its stable of paid products, it made the choice early not to put up a generic firewall, according to Wells. "We're still free access and primarily ad-driven," he says. "But we are going to have to figure out a paying relationship with people coming to us. What is emerging is that people are willing to pay for non-Web platforms such as e-readers and mobile. It's not clear on how you get them to pay purely online." 
How Do You Know When You've Won? The New Metrics of Success
Overall revenue for 2009 was around $6.4 million, which beat the goal by 2 percent, according to Toole. Print ad revenue and circulation revenue exceeded the goal by 13 percent, while syndication revenue was around $800,000, with the remaining $500,000 in revenue coming from Web ad revenue and digital subscription products.
At presstime, The Monitor expected to beat its goal for the most recent fiscal year (ended April 30) by 5 percent.
However, when the new strategy was announced, a blogger wrote, "The new strategy isn't designed to make The Monitor profitable but to reduce the loss to $10.5 million a year."
Not so, according to Monitor execs.  "We are on a four-year plan to reduce our direct loss to $7.2 million with the intent to achieve breakeven and eventual profitability," says Toole.
But that also means a new set of benchmarks and metrics to gauge success. In print, The Monitor is looking at the performance of direct mail campaigns, goals around conversion rates and trying to pick those up 4 or 5 percent every few months. It's then looking at satisfaction levels and below that, the number of stories read to completion.
"We've been considering this shift for years," says Wells. "While it became clear this was the right thing to do, it was no small undertaking after you've done print for 100 years. The audience migration and the rising costs of print had to come together for us to move forward."
The Monitor is very much aware that "transition" is the new normal for publishers and will most likely continue well beyond current staff. "We didn't go from 100 years of the print daily to this current platform and think we'll get another 100 years out of this," says Yemma.