Media industry executives are optimistic about the coming year, specifically in the areas of product development, acquisitions and competition, new research reports from the Jordan, Edmiston Group, Inc. (JEGI) and AdMedia Partners show.
The high-level of M&A activity in 2012 is expected to continue in 2013, according to AdMedia Partners, a media M&A brokerage firm. Its study, which polled more than 7,400 domestic and international executives in the advertising, marketing services, and media sectors, among others, shows that almost two-thirds (63 percent) of respondents were approached by a buyer in 2012, with 54 percent by strategic buyers and 26 percent by financial buyers.
While acquisition discussions seem to be on the rise, the data appears to be split in the type of M&A activities to be expected. About 57 percent expect to seek an acquisition in 2013, with 47 percent contemplating the sale of their company and/or subsidiary.
Existing cash reserves will drive M&A funding, with the AdMedia report showing that 60 percent of respondents plan to use this strategy. About one half—48 percent—plan to use debt financing, a 27 percent increase over 2012 responses.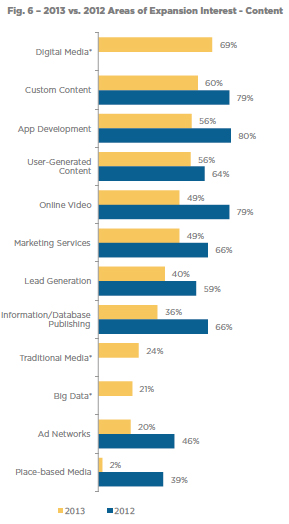 The number-one reason for an M&A strategy respondents give (59 percent) is to develop new services and/or products and to acquire new clients and verticals. About four in ten respondents (38 percent) are motivated by the possibility of expanding their geographic reach.
For content firms, there are a variety of areas companies are considering expanding or acquiring, as the graph pictured right shows.
"It seems like there is more money, and a willingness to do deals," one respondent said. Another added, "2013 will be a soft year for traditional media but with better prospects for innovative digital businesses and marketing services."
More than half of respondents—51 percent—say they would advise sellers to act now when it comes to the M&A environment, with 70 percent also supplying that advice to buyers. The top explanation (25 percent) given by those offering advice to prospective buyers is that the timing is right. Nearly as many (21 percent) say that economic uncertainty is motivating their suggestions.
JEGI Media Growth Outlook

Data from JEGI, the independent investment bank focusing on the media, information, marketing and technology sectors, shows that product development has meant an increase in competition on all fronts.
During the third quarter of 2012 JEGI commissioned the survey of 231 respondents (of which 70 percent of respondents are CEOs, chairmen or presidents), which was conducted by global independent publisher Econsultancy. The data shows that the top growth drivers for the next 12-24 months will be the launching of new products and services (61 percent), the expansion of market share within existing sectors (58 percent) and new acquisitions (37 percent).
"It has become clear that rapid product development isn't simply a phase from which traditional media will eventually emerge, remade," says the report, entitled Media Growth Trends in 2013.  The report adds, "Those organizations that appear best positioned to grow are those that understand what they're good at and perhaps more importantly, what they need to develop (or simply avoid)."
While growth is poised to happen, there are some challenges associated with this upward mobility. According to the report, the top systematic barriers to growth by year include: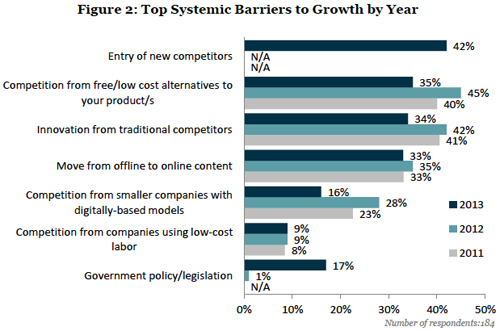 In addition to systematic barriers, several internal barriers could stem growth this year. The number-one cause for this, 40 percent of respondents say, is a lack of talent in emerging areas like technology. A lack of talent in senior management is the second largest barrier to growth, 34 percent of respondents say. The third most cited reason is a lack of capital and/or credit, according to 26 percent of respondents.
"We've gotten a lot more open minded about where to find talent, at entry level," one survey respondent said when asked what steps are being taken to overcome these challenges. "Looking for executives in our industry that are a prove digital commodity isn't working for us, so we've started looking at people who are succeeding in more inherently digital business, and making an argument for why they should bring their talents to publishing."