Media M&A Soars in 2014

Magazine results more mixed though.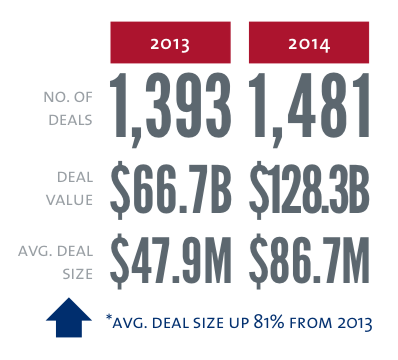 Overall media M&A was up substantially in 2014, hitting pre-recession levels in both volume and value, according to a report from investment bank, JEGI.
Aggregate deal value topped $128 billion last year, shooting up 92 percent over 2013, while with 1,481 deals, the number of acquisitions across the industry rose 6 percent.
Results were mixed for magazine media though.
The B2B sector saw 38 deals with an estimated value of $3.2 billion last year—up 12 and 598 percent, respectively, over 2013. That big jump in value comes thanks to two $1-billion purchases: UBM's acquisition of Advanstar and Apax Partners 50-percent stake in Trader Media.
Consumer magazines actually saw declines in both volume and value however. The sector's 31 deals for an estimated $1.6 billion were slightly off 2013 totals.
Analysts at JEGI expect the overall positive trend to continue.
"JEGI expects robust M&A activity to continue in 2015, primarily due to the steady progress of the US economy and the improving economic outlook," the report reads. "Another indicator is a very robust pipeline of active engagements heading into 2015, which points to another busy year for M&A."
Meet the Author
---