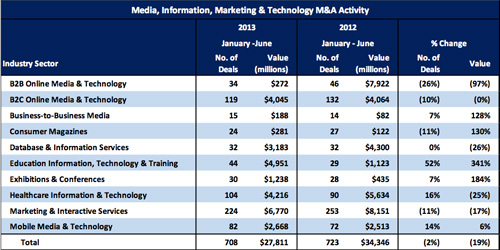 Media business purchasing picked up after a slow first quarter, but year-over-year activity was down slightly in the first half of 2013, according to a report from the Jordan, Edmiston Group (JEGI).
Overall media, marketing and information industry M&A fell 19 percent to $27.8 billion in aggregate value, while volume stayed relatively flat with 708 deals, a 2 percent dip from last year's first half sales.
While lower than 2012, those totals still represent a significant gain over recent historical activity. First half deal value hadn't topped $25 billion since 2007 ($65.8 billion); the number of deals had never even hit 500 until last year.
Marketing & Interactive Services was the biggest mover of the 10 sectors measured by JEGI. Its activity accounted for close to a third of the total deals announced (224) and about a quarter the transaction value ($6.7 billion).
Mixed Media Results
Results were mixed for media in particular.
The void left from last year's $7.1 billion Alibaba-Yahoo deal made for a considerable decline in b-to-b online media and technology activity (34 deals; $272 million), while traditional b-to-b media saw 15 deals for $188 million-a substantial uptick in value, but flat volume.
For consumer businesses, online media and technology dropped 10 percent in volume (119 deals) and stayed flat value ($4 billion); consumer magazines had a similar decline in volume (24 deals), but saw dollar amounts jump 130 percent ($281 million) on the strength of several large Q1 sales.
See Also: First Quarter M&A Dips
Mobile media and technology had a 14 percent increase in volume (82 deals) and rose 6 percent in value ($2.7 billion).
Among the notable media deals were Google's $1.3 billion Waze purchase, Yahoo's $1.1 billion Tumblr pick up, LinkedIn's $90 million Pulse buy, Lonely Planet Publication's sale to NC2 Media for $75 million and this week's $94 million Demand Media acquisition of ecommerce marketplace Society6.
To stay updated on the latest FOLIO: news, become a Facebook fan and follow us on Twitter!