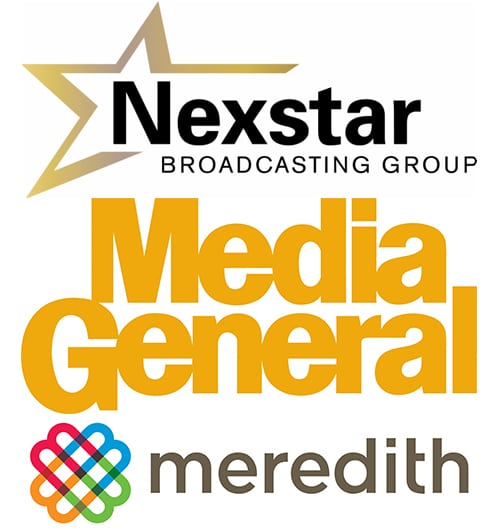 The cloud of uncertainty cast over Media General's proposed purchase of Meredith Corp. grew a shade darker Monday, as Media General announced that it will officially open negotiations with its own proposed buyer, Nexstar Broadcasting Group.
Media General first announced an agreement to buy Meredith for $2.4 billion in September. Weeks later, Nexstar submitted an unsolicitied proposal to buy Media General, a deal that, if made, would jeopardize the yet-to-be completed Meredith takeover, an acquisition Nexstar described as "ill-conceived."
Media General was granted a waiver by Meredith to pass on non-public information to Nexstar in evaluation of the deal, which Nexstar claimed would offer Media General greater value, both immediately and long-term.
Media General's board of directors reached two unanimous decisions, according to a company statement. The first was to formally reject Nexstar's initial, $4.1 billion proposal, saying that it "significantly undervalues" the company. The second was to enter negotiations with Nexstar over the suitor's non-binding, unsolicited proposal.
Meredith released a statement of its own in response to the announcement, saying, "Meredith understands Media General Board's fiduciary responsibility to respond to the Nexstar proposal consistent with our binding merger agreement announced on September 8, 2015. However, Meredith still remains confident that the combination of Meredith and Media General will generate superior shareholder value … as compared to a potential Nexstar transaction."
Furthermore, Meredith chairman and CEO Stephen Lacy, who would lead the proposed new entity created under a Media General/Meredith merger, reiterates that the company's board of directors still believes the agreed-upon merger agreement with Media General is in the best interest of Meredith and its shareholders.
"We are surprised that Media General's Board considers the value of our proposal to be inadequate today," said Perry Sook, chairman, president and CEO of Nexstar, in a statement. "However, we are willing to engage with them to hear their perspectives."
Even as negotiations with Nexstar begin, Media General's board of directors continues to recommend following through with the Meredith acquisition under the terms established in September.