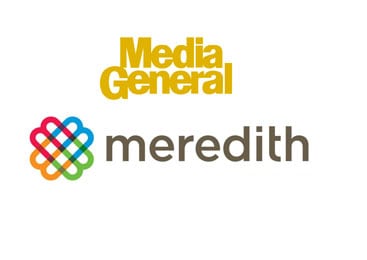 Meredith Corp. and Media General announced early this morning a merger in which Media General will acquire 65 percent of Meredith for $2.4 billion. According to the companies, the deal will create the third-largest owner of network affiliates, with 88 stations in 54 markets.
Meredith CEO Stephen Lacy will lead the combined entity as CEO and president, which under a new holding company will be called Meredith Media General. Meredith's Joseph Ceryanec will continue as CFO.
The deal appears to be largely motivated by capturing network television scale, but Meredith's multiplatform National Media Group brands, mostly targeting American women, are a deal-sweetener.
The offer is valued at $51.53 per share, a 12 percent premium on Meredith's September 4 closing stock price. With Meredith's $772 million in debt thrown in, the entire value of the deal is $3.1 billion.
Media General received $2.8 billion in financing from RBC Capital Markets and JPMorgan Chase Bank.
The combined company will have annual revenues of approximately $3 billion and more than $900 million in EBITDA, says the announcement.
Pending shareholder and FCC approval, the transaction is expected to close by the end of June, 2016.
The deal comes as a surprise, mostly because Meredith has been the one on a buying spree. It assumed control of the Martha Stewart Living brands last year and then bought Mywedding.com, Shape and Selectable Media. In a restructuring move, it laid off 100 employees in April.
There was no specific mention of any changes to Meredith's National Media group, but check back for updates.
Update: A Meredith spokesman tells Folio: it's too early to say what impact the deal will have on specific brands in the National Media Group: "The combination of Meredith and Media General creates a powerful multiplatform and diversified media company with best-in-class media assets and a strong financial profile," he says. "A key part of the strength of the expanded platform is access to a female audience of 100 million American women, including over 60 percent of U.S. Millennial women. This represents a significant opportunity for digital expansion for businesses presently operated by both companies. The two companies will be working together over the coming weeks and months to begin integration planning so it is too early to speculate on specifics."