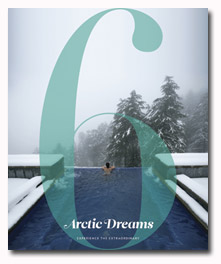 As one of the largest custom publishers, McMurry is used to generating magazines for someone else. Now, the company is launching a magazine for itself.
6 (the name refers to six "passion points" of the readership, which include wealth, style, travel, design and body and health) debuts with a November/December issue targeting 100,000 select households with average net worth of $25 million. "McMurry wanted to do a magazine without a sponsor," says editorial director Catherine Gundersen. "This isn't just a magazine with a static extension into a Web site. This is about how can we make it fresh and build something that advertisers and readers told us they want."
With no shortage of luxury magazines in the marketplace, McMurry says it needed to make sure its reader base really represented the affluent, rather than the aspirational readers, it says many of its luxury competitors cater to. The publisher began building its target audience by accumulating lists through a variety of different data sources and ended up with a list of 300,000 names, which it pared down to get down to a target list of 100,000. McMurry then hired MMR to extract names from the list on a random basis and conduct a survey to help validate the list.
6 also will feature an experiential component (to go along with the tagline, "Experience the Extraordinary"). A concierge at experience6.com will plan high-end trips for readers. The debut issue will package an article about Macallan scotch—which retails for $85,000 a bottle—with an exclusive, customizable trip to the distillery in Scotland, which is not open to the public. Twelve years later, participants in the trip will receive a bottle of Scotch that they helped create. The cost will be $75,000 per person, with a maximum of four people per group. McMurry hopes to offer up to 36 such trips per year.
6 offers three advertising packages, including the Six Package, which includes a four-color ad page plus a Web listing for $27,451 gross; a Private Showings Package that includes the ad page, the Web listing and the opportunity to be displayed alongside other high-end advertisers in a private online trunk show for $32,941; and a Sponsorship Package that offers exclusive sponsorship of a 6 event.
McMurry was mum on advertiser and revenue goals for the launch but expects 6 to turn a profit in its first year. "One of our advantages is we are based in Phoenix," says vice president of client services Tom Garrett. "We don't have to pay for a building in Midtown Manhattan like a Condé Nast."