McGraw-Hill Sells Education Business for $2.5 Billion

Company will rename as McGraw Hill Financial.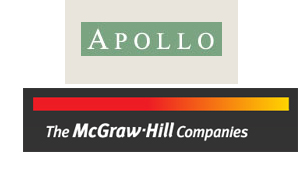 McGraw-Hill has agreed to sell its education business to investment company Apollo Global Management for $2.5 billion. This leaves the company with its remaining McGraw-Hill Financial operation and after the close of the deal, which is expected later this year or early 2013, it will become the company's official name.
McGraw-Hill split in September 2011 into two companies—McGraw-Hill Financial and McGraw-Hill Education—in an effort to reduce its cost structure and unlock new value.
The Financial group, headed by Terry McGraw, includes the publishing assets under the Aviation and Construction groups—as well as the Standard & Poor's and J.D. Power and Associates brands.
Of the two companies, Financial is the larger, with 2011 revenues of about $4.1 billion. Of that, the Commodities & Commercial segment, which includes the J.D. Power, Construction, and Aviation Week groups, made about $900 million in 2011 revenues. McGraw-Hill Education ended 2011 with revenues of $2.3 billion.
Estimated 2012 revenues for McGraw Hill Financial are $4.4 billion.
"Today's transaction marks a transformative time for our company, shareholders, customers and employees," says McGraw in  statement. "This move builds on McGraw-Hill's strong legacy and gives us an unprecedented opportunity to focus on accelerating the growth of our iconic brands and leading franchises such as Standard & Poor's, S&P Dow Jones Indices, S&P Capital IQ, Platts and J.D. Power and Associates.
Estimated net proceeds of $1.9 billion from the sale will be used to pay off short-term debt, make tuck-in acquisitions and sustain the company's share repurchase program. 
Meet the Author
---