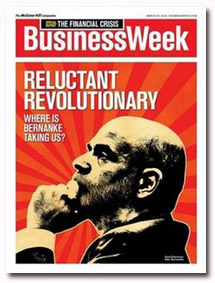 RELATED: Bloomberg and BusinessWeek: The Future of Magazines?
After a weeks-long auction process, the McGraw-Hill Companies late Tuesday announced it that has agreed to sell BusinessWeek to Bloomberg L.P., the expected favorite among remaining bidders.
In addition to the 80-year-old print title, the deal includes BusinessWeek.com, Business Exchange online news and information service, SmallBiz magazine and BusinessWeek Events.
In a statement announcing the agreement, McGraw-Hill chairman, president and CEO Harold McGraw III called BusinessWeek a "truly outstanding franchise and the best source of business reporting in the world." "We are pleased that we have reached an agreement for BusinessWeek to be acquired by Bloomberg, which shares the same high standards for editorial independence, integrity and excellence that have long defined BusinessWeek," he said.
Financial terms of the deal were not officially disclosed, although BusinessWeek writer Tom Lowry, citing knowledgeable sources, pegged the offer between $2 million and $5 million in cash. Bloomberg would assume liabilities, including potential severance payments, he wrote.
"The BusinessWeek acquisition will yield huge benefits for users of the Bloomberg terminal, and for our television, online and mobile properties," Bloomberg president Daniel L. Doctoroff said in a separate statement. "BusinessWeek helps better serve our customers by reaching into the corporate suite and corridors of power in government, where news that affects markets and business is made by CEOs, CFOs, deal lawyers, bankers and government officials who typically are not terminal customers."
McGraw-Hill said the transaction will enable the company to focus its resources on its remaining brands. McGraw-Hill still publishes a number of magazines and other publications, including Aviation Week magazine.
Norman Pearlstine, Bloomberg's chief content officer, was tapped to serve as BusinessWeek's chairman, Bloomberg said.
It remains to be seen how many, if any, of BusinessWeek's staff will make stay with the magazine following its transition to Bloomberg. The deal is expected to close before the end of the year.
Through the first quarter, BusinessWeek saw ad pages fall 34.7 percent to 860.24 pages, compared to the same period last year, according to PIB figures.