McGraw-Hill to 'Scrutinize' Media Portfolio

BusinessWeek publisher downgrades financial outlook in face of falling revenues.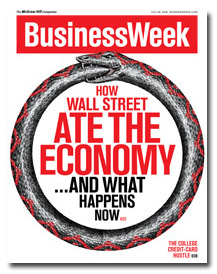 Through the first six months, BusinessWeek publisher McGraw-Hill reported a net income of $233.8 million, down 22.4 percent from $301.5 million during the same period in 2008. Revenues for the period declined 9.6 percent to $2.6 billion.
For the second quarter, McGraw-Hill reported a net income of $167.8 million, down 22.6 percent from the same period last year. Revenues, meanwhile, fell 12.4 percent to $1.4 billion.
Revenue in the company's information and media group declined 11.5 percent during the second quarter to $236.2 million. Operating profit, the company said, fell 41.8 percent to $14.4 million, including a net pre-tax restructuring charge of $4 million. The business-to-business sub-group—which publishes BusinessWeek and Aviation Week magazines, and includes Platts and J.D. Power and Associates—revenues declined 10.2 percent to $215.8 million.
"A solid performance by Platts in global energy markets in the second quarter was offset by weakness in the automotive sector at J.D. Power and a decline in advertising in Aviation, Construction and BusinessWeek," the company said in a statement.
BusinessWeek saw advertising pages plunge 36.8 percent through the first six months, according to PIB figures. During the second quarter, ad pages fell 34.3 percent.
Earlier this month, McGraw-Hill said it is "exploring strategic options" for BusinessWeek and is said to have hired investment bankers Evercore Partners to explore a sale. A number of private equity players—including OpenGate Capital and Wasserstein & Co.—reportedly have expressed initial interest in acquiring the ailing business magazine.
This month, McGraw-Hill said it eliminated 550 positions—125 from the media and information division. The company said it incurred a $24.3 million restructuring charge related to the staffing reduction.
During its earnings call this morning, executive vice president and CFO Robert Bahash said the company was able to mitigate some losses by "stringent expense controls." "We will not let up in the second half," he said.
When asked during the call if the company would consider selling off more information and media division assets beyond BusinessWeek, chairman, president and CEO Harold McGraw said  everything in the portfolio "will be scrutinized."
As a result of the company's financial losses, McGraw-Hill lowered its company-wide outlook for the remainder of the year. "In view of weakening market conditions in advertising and school education, we now expect revenue to decline 5.5 percent to 6.5 percent in 2009," the company said. "Previously, we had anticipated a decrease of 4 percent to 5 percent."
Meet the Author
---