McGraw-Hill Media Division Profits Plunge 76 Percent

BusinessWeek's ad pages fall 39.8 percent; overall profits down 22.1 percent.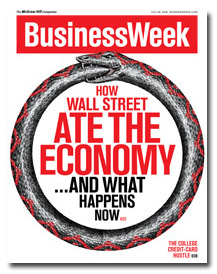 BusinessWeek publisher McGraw-Hill reported a first quarter 2009 operating profit, before taxes on income, of $103.7 million, down 22.1 percent from $133.2 million during the same period last year. Revenue was $1.14 billion, a decline of 5.7 percent from the same period last year.
McGraw-Hill's media division saw profits plunge 76.4 percent to $2.8 million, compared to the same period in 2008. The division reported $225.4 million in revenue, down 7.4 percent compared to the same period last year. During an earnings call Tuesday morning, chairman, president and CEO Harold McGraw III attributed the division's losses to a continued decline in advertising, strength of global energy markets and deferrals at J.D. Power and Associates ($4.7 million in revenue and $2.3 million in operating profit).
Revenue for the division's business-to-business group—which includes BusinessWeek and Aviation Week—was down 5.7 percent to $207.1 million. "A solid performance by Platts' news and pricing services for global energy markets was offset by declines at J.D. Power and Associates and decreases in advertising in the construction industry and at BusinessWeek," the company said.
BusinessWeek's ad pages during the first quarter were down 39.8 percent, according to Publishers Information Bureau figures. The magazine published 10 issues during the first quarter compared to 12, the company said. "Circulation and readership is up," McGraw said. "The problem is with the business model and advertising side."
When asked what the company is doing to stem the losses at BusinessWeek, McGraw declined to comment. A company spokesperson "declined to comment on market rumors" when asked by FOLIO: if McGraw-Hill would consider putting BusinessWeek on the block.
During the call, executive vice president and CFO Robert Bahash said the company's free cash flow improved $207 million during the first quarter and expects to have $430 million to $450 million in cash flow for the year. By the end of March, the company carried a gross debt of $1.36 billion, he said.
Meet the Author
---