McGraw-Hill Launches Design Magazine

HQ targets building pros looking to 'increase effectiveness, sustainability.'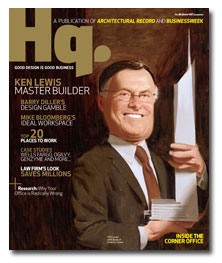 At a time when print launches are increasingly considered taboo, McGraw-Hill Tuesday officially unveiled HQ, a new quarterly magazine covering building design and workplace effectiveness.
Published in collaboration between BusinessWeek and McGraw-Hill Construction—publisher of Architectural Record magazine—HQ targets building owners and developers as well as design and construction professionals. The magazine features case studies of C-level executives who have increased their company's effectiveness and bottom line, and have instituted sustainable design.
"We expect that 82 percent of companies will be greening at least 16 percent of their portfolios by 2009," Norbert W. Young, president of McGraw-Hill Construction, said last June when the launch was first announced. "Our research also demonstrates that there is a need for hands-on, practical information—real ways that companies can green facilities for a meaningful return."
With a 65,000 circulation, the magazine is an expansion of McGraw-Hill's annual "Good Design is Good Business" awards, the publisher said.
Meet the Author
---