McGraw-Hill Expects $5.9 Million Gain from BusinessWeek Sale

In financial report, company projects higher revenue decline through 2009.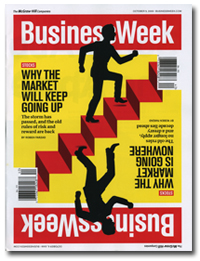 Following a third quarter that saw net income drop nearly 14 percent to $336.1 million, the McGraw-Hill Companies today projected revenue for 2009 to be down roughly 7 percent compared to last year. The company had previously forecasted a revenue decline of 5.5 percent to 6.5 percent.
Revenue through the first nine months was $4.49 billion, down 9.1 percent from $4.94 billion during the same period in 2008.
McGraw-Hill said it expects to see a $5.9 million gain after tax on the sale of BusinessWeek, which is expected to be finalized during the fourth quarter. The company agreed to sell the magazine to Bloomberg LLP.
According to chairman, president and CEO Harold McGraw, "stringent" cost controls will help the company achieve the top end of its anticipated earnings, or $2.20 to $2.25 per share. "Cost containment remains a priority," he said in the company's earnings statement. "In the third quarter, including the impact of a $23.4 million pre-tax restructuring charge last year, we reduced total costs and expenses by 5.4% despite a $68 million increase in incentive compensation after substantial reductions in 2008."
McGraw-Hill's information and media division saw operating profit decrease 21.3 percent to $46.7 million through the first nine months, although profits during the third quarter jumped 29.3 percent compared to the same period last year, to $29.5 million.
Revenue in the division's business-to-business group—which publishes BusinessWeek and Aviation Week, and includes J.D. Power and Associates, McGraw-Hill construction and Platts—dipped 8.7 percent during the third quarter to $218.8 million. Gains by Platts were offset by declines in the automotive sector at J.D. Power, softness in the construction market and continued decline in advertising revenue, the company said.
BusinessWeek, which the company has agreed to sell to Bloomberg LLP for an undisclosed price, saw ad pages fall 29.3 during the third quarter and 34.7 percent through the first nine months, according to PIB figures.
Meet the Author
---