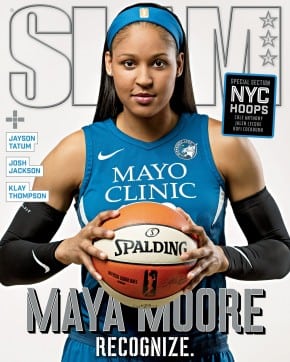 In 2008, 18-year-old University of Connecticut small forward Maya Moore became the first-ever freshman (male or female) to be named Big East conference player of the year in basketball.
Ten years and four WNBA championships later, Moore is making history again.
SLAM magazine, the self-styled "Basketball Bible," revealed today the cover of its forthcoming September/October issue, featuring the Minnesota Lynx player as just the second female cover star in the magazine's 24-year history—and the first since 1998, when Moore was nine years old.
"A SLAM cover is huge because it's a very obvious and intentional symbol of where we're going as a game," said Moore in a video accompanying the cover story, a profile by contributor Steve Marsh. "I see it as a really big move that feels good, feels right, going in the right direction."
The cover and Moore's portraits inside the book were shot for SLAM by Minneapolis-based photographer Sara Rubinstein.
The sole issue of SLAM's 216 previous editions with a female cover star arrived in October 1998, with Tennessee Lady Vols standout Chamique Holdsclaw (who would go on to be selected first overall in the 1999 WNBA draft) featured wearing a New York Knicks jersey.
As for why it took two decades and 24 different LeBron James covers to feature another woman, SLAM's overwhelmingly (89 percent) male audience probably has something to do with it. But if the 2018 way of measuring a successful cover reveal serves as any indication, it took Maya Moore's a mere two hours to outpace SLAM's previous cover, featuring the Philadelphia 76ers' Ben Simmons and Phoenix Suns first-round pick DeAndre Ayton, in terms of Instagram likes.