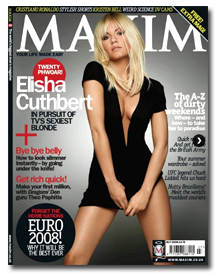 Maxim, a magazine that quickly became synonymous with the "lad" culture it covered and inspired, is shuttering its U.K. print edition after 14 years in print.
The June issue of the Dennis Publishing magazine will be its last. The Web site will live on, according to a report in London's Guardian newspaper.
"The Maxim brand remains the best-selling men's lifestyle magazine in the world, but Dennis Publishing must move with the times and recognize that the future of the brand in the U.K is online," Dennis Publishing CEO James Tye said in a statement.
Maxim's circulation fell 41.4 percent in the second half of 2008 to just 45,951 copies, according to the report.
The news comes on the heels of the shuttering of another high-profile U.K. lad mag—last month, Arena, a men's magazine published by Bauer, said it would close after 22 years in print.
Also last month, New York-based Alpha Media folded Blender, a title formerly owned by Dennis. In 2007, Alpha acquired the U.S. versions of Maxim, Stuff and Blender from Dennis for $240 million.
Of the three, Maxim is the only magazine still publishing.