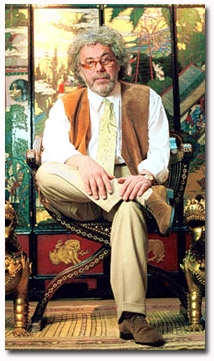 Outspoken Maxim U.K. and The Week publisher Felix Dennis might face a police investigation after he apparently told a British journalist he murdered a man by pushing him from a cliff.
In a story printed in the Wednesday edition of the London Times newspaper, Dennis says he killed a man who had been abusive to a female acquaintance. "I had a little meeting with him, pushed him over the edge of a cliff," Dennis is quoted saying in the article. "I killed him. That's all you need to know."
The apparent admission came during a taped interview which took place last November at Dennis' home in Warwickshire, England. In the article, Dennis declined to say exactly when or where the alleged murder took place.
According to reports, Dennis e-mailed the writer the day after the interview to suggest she "forget one particular episode I recounted to you after the third or fourth bottle [of wine]." In a letter written to the Times' editor months later, Dennis explained that he was on medication at the time of the interview and that mixing them with alcohol could cause exaggeration.
When contacted by British media, a spokesperson for Dennis declined to comment other than to call the Times story "ridiculous."
Police in Dennis' hometown of Warwickshire were considering whether or not to question him over his statements in the article. "We are looking at the article and the information in it," a police spokesperson said in one report. "No decision has yet been taken whether we will investigate or not."
Last June, Dennis sold his Dennis Publishing portfolio (except for The Week and the U.K. edition of Maxim) to Kent Brownridge and the Quadrangle Group for $240 million.