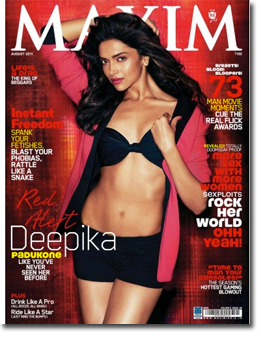 After initial rumors circulated Maxim was no longer available through iTunes, it's been clarified that Maxim is still available for the iPad, NOOK and Zinio platforms, but has switched support providers.
Maxim's digital edition was originally designed by mobile publishing and custom app developer Bite Sized Candy. However, the magazine's digital offering is being re-released this week from Mag+, the app creation platform from Moving Media.
According to a press statement from the publisher, Mag+ offers Maxim a better platform for both design and photography. Joe Levy, chief content officer with Maxim, tells FOLIO:, "I myself had been impressed with Mag+ right out of the gate. I think the PopSci treatment they did at the intro of the iPad was very impressive."
The Mag+ technology was originally developed in-house at Bonnier, and the U.S. director of Moving Media is Mike Haney, former executive editor for Popular Science. Levy says, "What really impressed me when sitting and talking with them is that they've got magazine guys on the team. It's not just talking to tech developers. When it comes to translating magazine content to this new platform, I thought they were uniquely qualified."
Development of the Mag+ Maxim digital edition took about two to three months. On working with Mag+, Levy says, "Their experience and technology makes the redesign of pages to fit both the size and capabilities of the tablet much easier."
Maxim has been available through iTunes since Apple initially released its subscription model in February. According to ABC, the publication had 57,246 digital sales from January-June 2011.