Maxim Bidder Denies Hostile Takeover; Maxim Denies Getting Bids

Track Entertainment CEO: Cerberus 'not properly' leveraging mag's brand.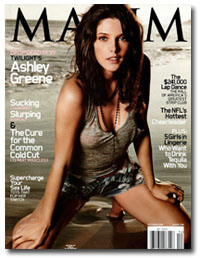 Andrew Fox, chief executive of New York-based entertainment and media company Track Entertainment, has stepped forward as a bidder for lad magazine Maxim.
Fox told the New York Post he has offered Maxim majority owner Cerberus Capital Management $40 million for the magazine. "Taking into account the rapidly declining prices media properties/brands are selling for these days, I'm confident that an offer based on valuations of 1X revenue or 4X earnings would be fair at this point," Fox told FOLIO:.
In the Post report, Fox indicated that if Cerberus and co-owner Alpha Media don't agree to sell Maxim to him then the magazine will most likely be shuttered by March. Through the first nine months, Maxim's ad pages plunged 28.6 percent, according to PIB figures.
Fox denied descriptions of his bid as hostile. "Not at all. We have presented a plan and we are awaiting feedback." Fox said he placed the bid several months ago and has been waiting since October for a response.
A Cerberus spokesperson, however, told the Post that it had not received a bid and is not in negotiations over a sale.
Track Media owns several online media properties including Clubplant.com. Fox called Maxim a strong brand that Cerberus is "not properly" leveraging beyond print. He told FOLIO: that Maxim "needs to be run as such, being the conduit between advertiser and consumer on all platforms."
"The brand is still strong and in a weak environment like this the timing is perfect," Fox said. "Our company infrastructure and business model enables us to leverage the brand appropriately. We have successful digital, TV and e-commerce properties in addition to a full service production and activation division."
This summer, Alpha Media said it recapitalized its balance sheet, significantly reducing the company's debt and improving its capital structure. As a result, Cerberus stepped in as the magazine's majority stakeholder. Late last year, Alpha was said to have violated its debt covenants and its EBITDA reportedly had fallen to roughly $8 million, down about 70 percent from $28 million in 2007.
Meet the Author
---