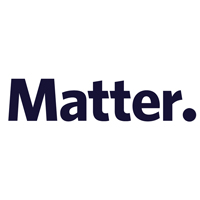 New York–On Tuesday, Feb. 25 a group of media executives, reporters and venture capitalists assembled at The Green Space for Matter Two Demo Days. Seven startups from around the world showcased beta and ready-for-market media products that could disrupt the media ecosystem and create new best practices. This was the group's second demo after last weeks hometown San Francisco debut.
What's Matter?
Corey Ford and Jake Shapiro founded Matter with a mission to holistically support entrepreneurs looking to improve storytelling. Support goes beyond the $50,000 in seeding Matter provides; it also includes an intensive 20-week accelerator course with hands-on training from experts in and around the media and tech communities.
"Matter is about two things; culture and community," Ford says. "A culture that encourages these teams to fail forward, and surrounding them with the community that can do just that. "
The company opened its doors to six startups last year, and since launching, Ford says its startups are generating revenue, receiving several acquisition offers and launched three new products.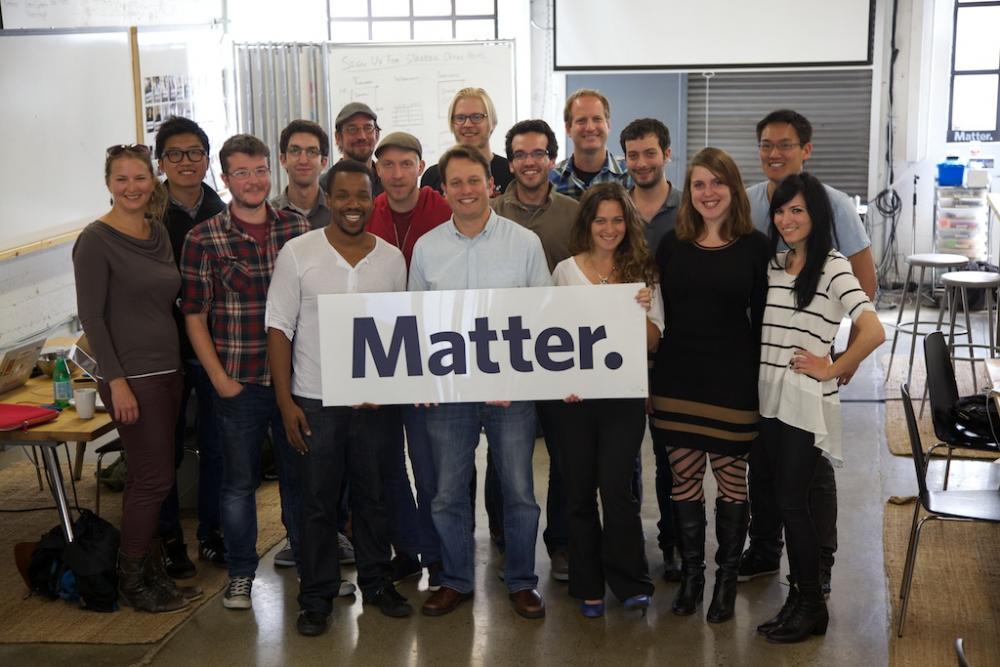 The Second Class
The seven companies that make up Matter Two offer discrete solutions in a number of media disciplines. Data-driven journalism, smarter programmatic advertising and universal platform publishing were just a few of the ideas that surfaced in the demos. Here's a brief rundown:
Beatroot: Founded by Mikko Koskinen and Ville Sundberg, Beatroot is for the data-driven journalist who wants to understand his or her audience better with actionable data-including impact, meaning the ability to trace how one story shaped media agendas or even policy.
Butler: Founded by Jeff Wang and Jonathan Liu, Butler offers easy-to-use copy and paste analytics that gives users a much more granular look at visitor behavior. For instance, Bulter can determine not only how a user interacts with an interface, but also how they explore a site, and where in the funnel they might have dropped.
Connu: Founded by Susannah Luthi and Niree Noel, Connu is a platform for short story fiction writers to distribute their work. The principal behind the product is to help independent writers scale their personal brand through distribution and audience development.
Contextly: Founded by Ryan Singel (formally with WIRED) and Ben Autry, Contextly is an antidote to unintuitive automated content aggregators. In other words, with a simple backend tool, Contextly will allow publishers of any scale to surface recommended stories that tie back to the original entry point. The goal is to increase pages per visit, thus increasing the likelihood of binge consumption.
Creative Action Network: Founded by Max Slavkin and Aaron Perry-Zucker, the Creative Action Network is a platform for independent artists to showcase and sell their work to a mass audience. It provides tech tools that optimize reach and discoverability.
Made: Founded by Benjamin Evans, Nicolas Parzaile and Emma McGowan, Made is an invitation-only marketplace that connects freelance creatives with employers (and vice versa). The proprietary technology offers a more efficient experience for both the freelancer and hiring company. Think of it as a virtual agency, but with reduced costs for both parties. Phase one is for designers and developers, however the company plansi to scale it to a broader freelance community.
Woopie: Founded by Martha Rotter and Stewart Curry, Woopie is designed to make digital publishing across all devices quicker and easier, without sacrificing original quality. Woopie is an acronym for "write only once, publish it everywhere." The goal is to scale the product so that cumbersome PDF replicas are replaced by content that looks and feels native.
The Bigger Picture
Each of the startups are very much in their infancy, however they are beginning to earn revenue. Each are seeking somewhere between $300,000-$500,000 in a phase-one seeding. But Ford cautions onlookers to not dismiss where the companies are now, rather consider where they can go, and how they can reshape media.
"Technology has been disrupting the traditional storytelling institutions that we have relied upon," he says. "So the question is: What are we going to do about it? Everything big started small. Entrepreneurs are the ones creating the future of storytelling."
Moreover, these startups, in some cases, are creating tools for entrepreneurial journalists and those looking to forge their own way. While some of the tech is enticing to major players, there is an underlying commonality in that new technology is democrative and not exclusive.