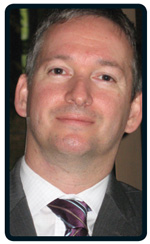 Yorke has pioneered the integration of social media strategies into IDG's broader marketing services operation.
Marketing services has become the newest buzz phrase among publishers looking to tap new revenue streams, but it's essentially an outgrowth of traditional custom publishing divisions.
IDG's Global Solutions group, helmed by president Matt Yorke, accommodates the company's global sales and marketing services—predominantly focusing on IDG's top six U.S. accounts. Within that group resides the more strategic marketing services operation that has gained notoriety for Yorke's championing of merging social media functionality with advertising.
The group created the Amplify service, which initially offered three or four types of ad units that pulled in the social Web. A unit for Intel, for example, included a real-time feed of tweets referencing the brand.
That strategy quickly expanded beyond the confines of an ad unit and the group's focus on corporate sales. "We rebranded the group as more of a strategic marketing services platform," says Yorke. "The clear intent is not just about corporate sales, it's a declaration that we're moving into the marketing services business."
Ad units gave way to a broader array of services, including the construction of a "social listening" platform that allows Yorke's team to monitor what is being said about a brand and map that data against a competitor's brand. From there, a client could contract with IDG to build a custom content platform specifically designed to incorporate a high level social media interaction.
The strategy decidedly takes marketing services from within IDG's stable of media brands and brings the campaigns out to the wider Web. Custom "nano-sites," contracting with industry influencers and early adopters to campaign for a client, and seeding forums with custom content are other services.
Now, social media-related tactics drive 35-40 percent of overall revenues for the group, says Yorke.
What's the next big thing? Mobile. iPad units, SMS campaigns, QR code whitepaper downloads and mobile lead-gen are all gaining speed. "This is a break-out year for mobile," says Yorke. "It's not just mobile in isolation, it's being integrated into bigger programs. These worlds are colliding."

VITAL STATS: Social media-related elements in IDG's marketing services projects account for 35-40 percent of the group's revenues.