Masthead Web Site to Live On

Magazine serving Canada's magazine industry to remain online.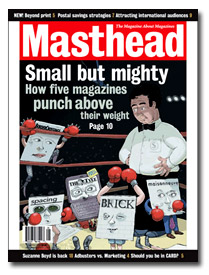 Citing declining revenues, the publishers of Masthead—the magazine that for more than two decades covered the Canadian magazine industry—this fall said the November/December issue would be its last. The Web site also was to shut down.
This week, Mississauga, Canada-based North Island Publishing said it will continue to produce the Web site, MastheadOnline, through 2009. Editor Marco Ursi will remain with the company and manage the site's content.
Certain annual print features, including launch/closure round-ups and top 50 magazine company rankings, will now be published online, the publisher said.
North Island's print industry products also include Graphic Monthly Canada magazine, PrintCan.com, The Estimators' and Buyers' Guide and the Print World event. For the graphic design industry, it produces Design Edge Canada, DesignEdgeCanada.com, Design Edge Express and the Design City show.
Meet the Author
---