Massive Layoffs at Reader's Digest

Publisher to cut 8 percent—approximately 280 employees—from workforce.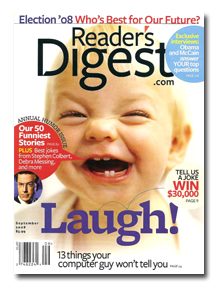 Reader's Digest Association Wednesday said it will eliminate 8 percent of its overall workforce of 3,500, or approximately 280 employees.
The cut employees will be notified Thursday.
Mary Berner, the company's CEO, sent a memo to RDA employees today—what the company is calling internally a "Recession Plan" roadmap—which says RDA will "completely shut down for five designated days in both 2009 and 2010, creating the annual effect of one week's mandatory additional vacation, unpaid." Whenever possible, she said, "these 'Shutdown Days' will be timed to extend weekends or holidays."
The company said it does not plan to close any of its U.S. magazines.
In the memo, Berner said she hopes the moves "will be temporary" and that RDA will soon "resume the progress it made in fiscal 2008, when we achieved success in our three-part program to launch growth initiatives, reduce costs and transform the company culture."
The news comes just days after RDA said it would launch a new quarterly magazine, the Purpose Driven Connection, in a partnership it previously announced with the pastor Rick Warren.
RDA was acquired by Ripplewood Holdings in March 2007.
The Pleasantville, New York-based company publishes several magazines including namesake Reader's Digest and Everyday with Rachael Ray. According to a recent 10-K report filed with the Securities & Exchange Commission, RDA carries about $2.1 billion in long term debt. The company's total liabilities and stockholder equity is $3.96 billion.
Last month, Standard & Poor's lowered its issue-level rating on RDA's senior secured debt to B- from B, indicating the belief that the company "would be sold as part of an orderly liquidation following a default."
Meet the Author
---