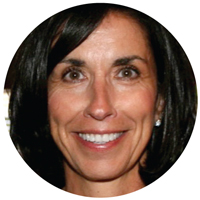 The launch of Duluth~Superior Magazine, a regional Minnesota niche, may never have happened if it weren't for its founder's rocky start.
When former Duluth News Tribune publisher Marti Buscaglia decided to leave the newspaper to take a position at the Orange County Register in California, she suffered a devastating career blow when an anonymous reader tipped off her new employer to ask for a copy of Buscaglia's college diploma.
Buscaglia, who never finished her degree, says she made the "rookie" mistake of writing it on her resume.
"The CEO asked me, 'Well, do you want to come on board anyway and ride out the storm?' and I told him that I didn't think it was fair to his readers—they needed a publisher they could trust."
Buscaglia picked up the pieces, finished her college degree in Minnesota (graduating summa cum laude), and took the summer of 2007 to write the business plan for her dream of producing a niche city and lifestyle publication for the area.
"I had a vision and I understand demographics. We really set out to give people a sense of pride of living in this region," she says of the underserved market.
After launching in the winter of 2008, Buscaglia's brainchild has a 10,000 circulation for a market area of less than 250,000 people. While other area magazines tout PDFs to display content online, Buscaglia has created a Web presence with online-exclusive content, unique media partnerships and a comprehensive arts and events calendar. The Web site draws 165,000 page views from 10,000 visitors monthly.
"We didn't have a lot of ads, but enough to make it worthwhile, with five full-page advertisers with yearlong contracts, and a few smaller ones," says Buscaglia. The magazine, now 68 pages, is down from its launch of 96 pages. Buscaglia admits anticipating a page reduction. "Readers are just as happy. Many say it's better."
VITAL STATS: After only a year, Duluth~Superior Magazine has 10,000 circulation for a market area of less than 250,000 people.