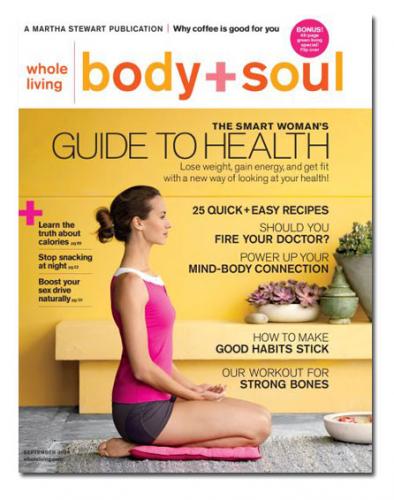 NEW YORK—To further align the magazine with its Web site and satellite radio show, Martha Stewart Living Omnimedia will change the name of its health and lifestyle title Body + Soul to Whole Living, the company announced Thursday at a cross-platform upfront event. The change will take effect with the magazine's June issue.
With the tagline, "Your Life in Balance," the June issue of Whole Living will also introduce an enhanced design, broader editorial content and richer storytelling, according to vice president and editor-in-chief Alex Postman.
"Since 2008, this has been the name of our Web site: WholeLiving.com," she told attendees. "And its traffic has grown to nearly 120 percent in the past year, powered in no small part by our Whole Life Action Plan. Whole Living is also the name of our daily radio show on Sirius/XM. Capitalizing on the strength of the 'whole living' aspect of our brand as we continue to evolve feels appropriate. We will remain true to our core pillars and beliefs while striking a more casual tone of enjoyment…And the interplay between the magazine and the Web site will be fundamental once we finally unify all of the platforms under one name."
Postman also pointed out that the magazine has increased its readership by 200 percent over the past five years. Body + Soul saw its total circulation increase by 23.7 percent to 603,848 total paid and verified subs during the second half of 2009 compared the same period the year before, according to ABC audit statements. The title's single copy sales, however, decreased by 5.1 percent to 74,288 copies during the same period.
MSLO Readies Magazine for E-Readers
MSLO also announced that it will release a magazine entitled Boundless Beauty that will be distributed on Apple's iPad and other digital tablets.
Slated for release later this year, Boundless Beauty will feature editorial content and ads enhanced with audio, video and social networking links in a "non-linear environment." Readers will be able to share and email the articles from Boundless Beauty, access additional resources, such as recipes, and view slideshows using touchscreen navigation.
As to whether Boundless Beauty will feature original content, repurposed content, or a mix of the two, an MSLO spokesperson told FOLIO: sister title Audience Development that while the details are still being worked out, most of the content is expected to be original. The subscription price for Boundless Beauty is also undetermined at this time.