Is Martha Cooked?

Did Susan Lyne's exit reveal a crack in MSLO's well-decorated wall?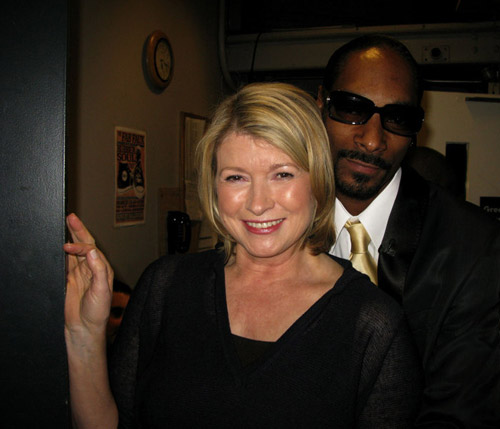 I've been saving this picture of Martha and Snoop in the Late Show with David Letterman green room posted on Stewart's blog on my desktop for months now, hoping I'd have a reason to post it. I didn't think I'd be defending her company in doing so, but here goes.
When Susan Lyne, the chief executive officer of Martha Stewart Living Omnimedia who steered the brand while its namesake served five months in jail for lying to federal investigators about the sale of ImClone stock, announced she was stepping down a few weeks ago, I poked around and heard more speculation that she'll eventually land at Time Inc. (as a FOLIO: source first floated back in November). But I was hesitant to call it more than what it was: an executive deciding to make a change.
James Ledbetter, a reporter for Slate, however, thinks that Lyne's exodus means the walls are crumbling around Stewart's well-decorated empire.
His main point, summed up nicely in the article's subhead: "The hard truth is that demand for Martha Stewart in all forms—magazines, books, TV shows, Web sites and merchandise—has passed its peak."
I can't really speak for the books, TV shows or merchandise—which seems to be where Ledbetter is hinging the bulk of his argument—but the magazine part of Martha's business, if not thriving, seems to be surviving the advertising downturn. According to the company's SEC filings, publishing revenues in the first quarter increased slightly (to $40.8 million from $40.6 million in 2007) following double digit publishing and Internet revenue gains during the fourth quarter.
"Can anyone save this sad mess?" Ledbetter asks, using the loosest definition of "sad mess" I've ever seen (the company, after all, turned a profit in 2007). Well, how about Martha? The conditions of her conviction, as Ledbetter points out, would allow her to become CEO in 2011—the "year she will turn 70," Ledbetter says.
Fifty, 60, 70. There's something timeless about Stewart's appeal. She's like gentle waves lapping against the shore. A self-made brand who seems as comfortable sipping wine with Rupert Murdoch as eating a bacon cheeseburger and pounding cans of Budweiser, as she did once on Conan O'Brien, pre-stock scandal. Or, as hanging with Snoop.
You can't say the same for Rachael Ray, whose perkiness, as evidenced by those annoying Dunkin Donuts commercials, may have a shorter shelf life than previously thought. Something just seems forced there.
Martha's a natural at any age.
Meet the Author
---