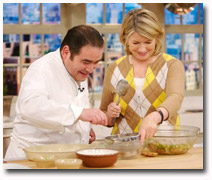 It's official: Martha has a new cook in the kitchen.
Martha Stewart Living Omnimedia has completed its $50 million acquisition of celebrity chef Emeril Lagasse's media and merchandising business. The deal, announced in February, includes the rights to the Emeril franchise, television programming, cookbooks, Web site, and licensed kitchen and food products.
Lagasse retains his restaurant and foundation-related assets.
At closing, the purchase price was $50 million ($45 million in cash and $5 million in stock) and could reach up to $70 million if certain performance targets are realized in 2011 and 2012. MSLO expects the assets to generate adjusted EBITDA of approximately $8 million in the first full year.
The company hopes to integrate the Lagasse brand into Living's multiplatform products—specifically its Everyday Food franchise—and vice versa, MSLO CEO Susan Lyne says.