Marshall McKinney

Art Director, Garden & Gun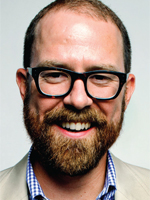 Takeaway: McKinney and his design team have been nominated for several industry awards, and have transformed a regional title into a national brand.
Marshall McKinney has a primary goal for Garden & Gun—legitimacy. That is, he is focused on maintaining the magazine's regional appeal while elevating the brand into national conversations.
Despite the magazine's title and perceived editorial content, McKinney is quick to point out that two of its biggest markets are in New York and California.
"When we birthed the brand we wanted to operate with the big boys and reach a certain taste level that made us appear as though we could be amongst some of the older elite brands," McKinney says. "Grit, tenacity, hard work and passion goes a long way, but some of it is about surrounding yourself with the right people."
McKinney's design work within Garden & Gun has been well received and the magazine has netted several industry accolades—including nominations in General Excellence at ASME's National Magazine Awards.
McKinney describes his art style as somewhere between modern and classic, and he tries to incorporate that notion into the book. "That's what gets me pumped, the opportunity to showcase the South, its people, its places, its heritage in a way that is succinct, present and exciting."
Moving forward, McKinney wants to further leverage the brand's recently launched digital edition by expanding content features while maintaining the print magazine's overall look and feel."
Meet the Author
---