Marking 25 Years, Utne Reader Hikes Prices

One-year subscription and newsstand pricing get significant boosts.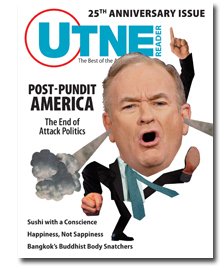 Ogden Publications' Utne Reader, a bimonthly digest of content from independent media, is celebrating its 25th anniversary by swimming against the tide of cheaper and smaller publications. The magazine has undergone a trim size increase and is supporting that with major hikes in both one-year subscription and newsstand pricing.
A one-year subscription will now cost $10 more, going from $19.97 to $29.95 if you pay at time of order. Those who choose to be billed have to pay $36.
Newsstand pricing is jumping a full $2, from $4.99 to $6.99.
Bold Move
Magazines across the industry over the last few years have been gradually shrinking in physical size to save on materials costs, and thanks to economic concerns and a newsstand supply chain collapse at the beginning of the year, sales are down double digits for many major publishers in the first half. This is after a 15 percent decline in unit sales for the second half of 2008.
"We're asking those who value quality journalism to support it," said Utne Reader's publisher and editorial director Bryan Welch in a statement, tapping the current backlash against free content. "We need to get out of the mindset that news and information should be free in every medium—especially among the independent media where the advertising dollar can be hard to come by."
Readers aren't simply getting slammed with a more expensive Utne Reader. The magazine will be increasing its trim size to 8.5 inches by 10 inches and will have a higher cover and body stock.
The magazine marks its silver anniversary with its September-October issue, which hits the newsstands August 25.
Meet the Author
---