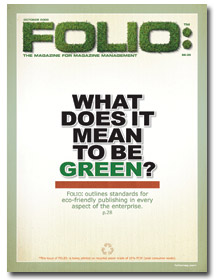 While the public—and publishers—often focus on the impact of producing magazines and events has on the environment, the materials used to market their brands can have just as big an effect on sustainability as their products.
Direct mail, event brochures, subscription renewal forms—even the sub card inserts—are all part of your total footprint. Ogden Publications was able to significantly reduce its direct mail in 2008—and has saved about $600,000 in the process, says publisher and editorial director Bryan Welch, using e-mail and online methods to promote subscriptions and merchandise.
The company also offered auto-renewal subscriptions for auto-paying with credit card online; "The auto-renewal option saves in paper printing, IT and warehouse staff time and postage," says Welch. "Year-to-date, we've saved approximately $60,000—not including staff time—across all titles just by subscribers taking advantage of this option."
Outside made the decision earlier this year to eliminate subscription cards from subscriber copies. It's a risky move, says Paul Rolnick, Outside's consumer marketing director. The insert cards represent a "significant source" of subscription revenue, Rolnick adds. "There's a real risk of cutting off that source." The magazine has a rate base of 675,000.
Still, Rolnick says, the money Outside will save in terms of producing the paper inserts—a "healthy five-figures"—will be redirected toward implementing and promoting a paperless renewal system. (Currently, Outside boasts a 35 percent online subscription renewal rate year over year.) According to the latest ABC Fas-Fax, subscriptions were up 12.6 percent.

Green Publishing Standards: Eliminate subscription cards from all subscriber copies. Reduce direct mail pieces by at least 30 percent.

What You Can Do to Be Green: Continue to look for ways to reduce paper marketing. Leverage Web- and e-mail-based wherever possible.
SEE ALSO:
MAIN PAGE
PRODUCTION | The Paper Problem
OPERATIONS | The Importance of Stewardship in Sustainability
EDITORIAL | Does the World Really Need Another 'Green Issue'?
DISTRIBUTION | Efficiency–And Sustainability–At the Newsstand
EVENTS | How Eco-Friendly Can a Live Event Be?
DIGITAL | Using Digital Editions to Go Green