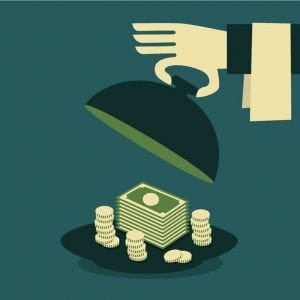 Folio:'s annual survey of magazine industry sales and marketing salaries indicates that overall compensation levels remained fairly consistent year-over-year for publishers and marketing directors, while salespeople at the account-executive level reported an overall decline in median base salary, particularly at consumer-facing publications.
Based on a sample of 264 respondents spanning consumer, B2B and association publications across the U.S., publishers and sales directors reported a median base of $108,000 and a yearly bonus of $40,000, for $148,000 in total compensation, compared to $155,000 last year. Salaries for marketing directors remained flat at a median of $80,000, while higher reported bonuses led to an increase in median total compensation by about 5.7% over 2018.
This year's sample of account executives, however, indicates a 13.6% decline in overall compensation primarily driven by a drop in median base salary, leaving these salespeople, who typically report up to publishers and sales directors, dependent on bonuses and commissions for 45% of their overall pay, on average.
"I have a solid base salary, but where I can really make money is on the commission side," said one account exec. "That has unfortunately been difficult to do based on yearly goals."
---
Article Continues After Advertisement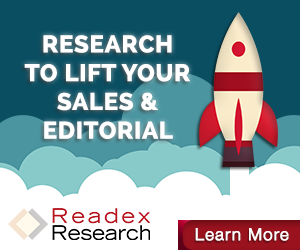 ---
"I would like the base salary to be higher to make up for the loss of commission when publications go down in frequency," said another.
Asked to name the biggest single factor impacting their compensation in 2019, most on the sales side cited external forces such as the economy and industry-wide downturns in print advertising as well as their own organizations' marketing efforts, while most marketers pointed to ad sales and overall company performance.
Consistent with nearly every salary survey we've conducted, across every discipline, gender appears to remain a factor as well, more narrowly among marketing directors and account executives, where women report earning $0.91 and $0.88, respectively, for every dollar earned by men in the same role, but more dramatically among publishers, where women reported total compensation of just $0.78 on the dollar compared to men.
"There are significant disparities in pay between men and women doing the same job (with men being paid higher salary and commission rates)," said a different salesperson. "Bonus plans are constantly restructured to be more difficult or impossible to achieve. Incentives have been eliminated for hitting monthly and quarterly goals. As costs go up in other parts of the business, sales compensation is flat or down."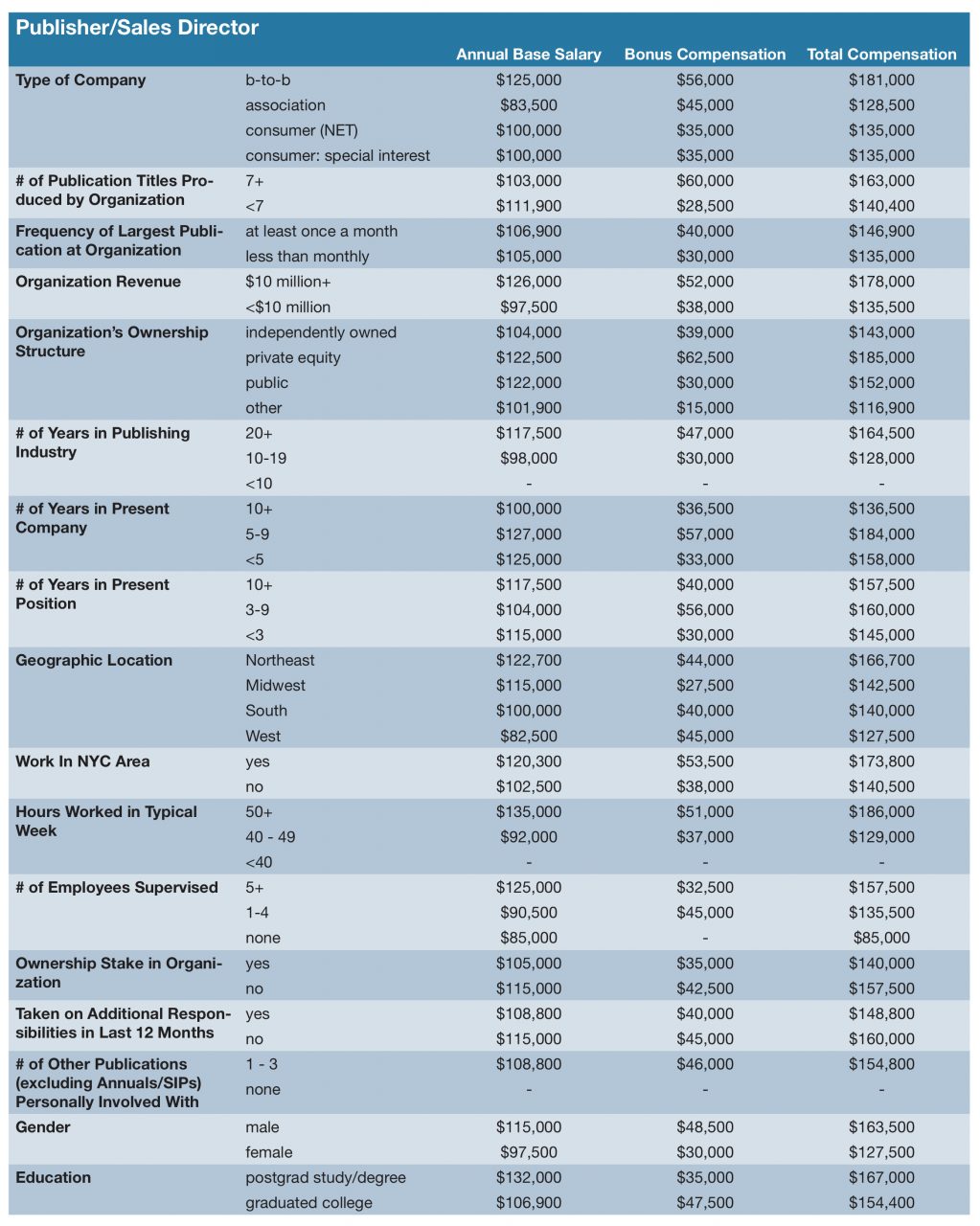 A perceived 20% decline in commissions and bonus compensation for publishers appears to have been mostly driven by consumer-facing publications and especially those within associations or non-profit organizations, whereas bonus compensation for B2B publishers remained steady year-over-year.
"I have not received a raise in over 14 years and received a new commission plan that is far from incentivizing," said one publisher.
In response to open-ended questions about their satisfaction with their current pay level, several publishers at smaller organizations expressed anxiety over an overwhelming dependence on commissions, particularly those at B2B media companies subject to consolidation and ups and downs in the markets they serve.
Overall, B2B publishers still reported the highest relative pay levels among the respondents, with a median base salary of $125,000 and $56,000 in bonuses or commissions, and New York-based publishers (and those based in the Northeast in general) significantly out-earned those based in other parts of the country, across the board.
Interestingly, tenure appears to have little if any bearing on salary or additional compensation. While publishers and sales directors with at least two decades of industry experience reported significantly higher pay than those with 10 to 19 years of experience, publishers with at least 10 years in their current roles or at their present companies reported comparable—or in some cases, even lower—salaries than those who have been with their companies or in their positions for shorter periods of time.
"I feel I should get bigger annual raises given the length of time I've worked for the company," said one respondent. "In the past it's been only 2%. We did not get any raise from 2018 to 2019."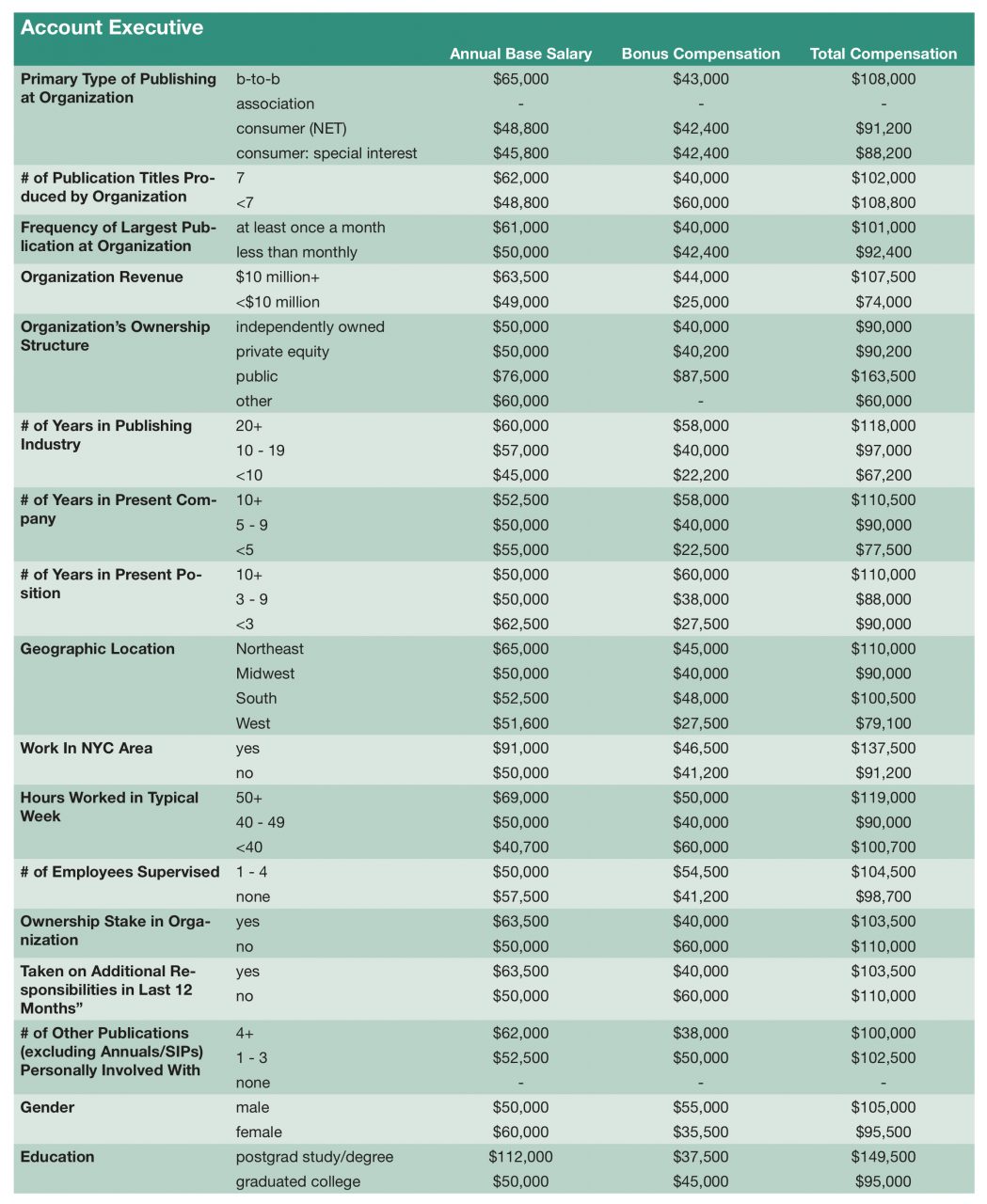 Moving down the corporate ladder to account executives, B2B sales reps again report higher base salaries, but similar bonus levels, to those at consumer or special interest magazines. Unlike at the publisher level, tenure and experience both appear to be a factor, less so in determining salaries but particularly when it comes to bonus compensation and commissions.
"The structure for incentive compensation makes the earning more difficult," said one respondent who identified as an account exec. "One senior rep holds all major accounts and new reps build from the ground up, and incentives are not paid until you earn the equivalent of your salary in commission."
Account executives at publicly held companies and organizations with more than $10 million in annual revenue earn significantly more, on average, than those at smaller or privately-held companies. And although it has relatively little bearing on bonus compensation, postgraduate education appears to have the highest impact on this group's base salary level.
On the marketing side, the disparity in pay between B2B and consumer-facing publishers seems the least noticeable, with B2B marketing directors reporting a median total compensation of $94,000, compared to $98,000 for marketing directors at consumer publications.
Experience appears to be a major factor for this cohort, with those who have been in the industry for at least 10 years earning significantly more than their less-seasoned colleagues. Unsurprisingly, those who work across at least four different publications and those who supervise teams also earn more than those at smaller companies.
By and large, this group was the most satisfied of the three with their current level of pay, generally expressing a desire for better compensation but acknowledging the business environment in which their employers are operating.
"Overall I am compensated well, however over the last year I have been asked to take on increased responsibilities while having to downsize my team, without any additional compensation," said one respondent.
Methodology
Data for the 2019 Folio: Editorial Salary Survey was collected via an online survey over a period of 12 days in May 2019 in conjunction with Readex Research, who tabulated the results. In total, 264 media industry sales and marketing professionals completed the 38-question survey jointly designed by Folio: and Readex. The margin of error based on the tabulated responses is +/- 4.2% at the 95% confidence level.