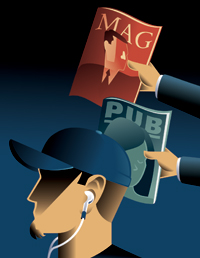 Take a look at any teen Web site and you'll see that it takes a lot of bells and whistles to attract the Millennials, or Gen Y—the age group that has always known the Internet, and the immediacy and interactivity that it has brought to publishing and the rest of our lives.
Print publishers are already lagging in mindshare with this group. According to the Mediamark Research Spring 2008 report, just 38 of the 255 titles studied can claim their readers' median age is within the advertiser-coveted 18-to-34-year-old demographic.
This generation is an avid content consumer, looking for many and vastly different outlets. Of course, this makes Millennials hard to attract and retain as consumers but publishers are coming up with new and innovative ways to tap into this lucrative ratebase and expand their older audience too.
Digital media and its endless possibilities to enhance the reader's experience is becoming a publisher's new BFF, as they say in teenspeak. But, publishers shy away from calling digital the 'preferred' method of content delivery. "You can't have a preferred device. You have to serve the consumer wherever they're looking to consume content," says Jeff Price, president of SI Digital. That has pushed the Time Inc. division to relaunch its mobile content and it's thinking about more broadband video and video-on-demand content, too. "Every potential way the consumer thinks about content, we have to be there."
The Publisher Learning Curve
Seventeen, whose average reader is a 16-year-old girl, is right in the heart of the Millennial marketing thrust. The brand, the top teen magazine and online site for teen girls, is trying everything it can to reach new readers—and retain old ones—from sponsorships with MySpace to widgets. To find true success, publishers must push the brand as a whole, and not just the different components, says editor-in-chief Ann Shoket. "Every single thing we do in the magazine points to the Web site and everything on the Web points to the magazine," she says. "I've spent the last year and a half on a campaign to unify the message and mission of the magazine and Web site to serve the reader in the best possible way."
The learning curve for digital marketing may have seemed long, but publishers are finally getting it. "In the mid-'90s, we all made the mistake of pushing the same magazine content online and consumers were wondering what the relevance was," Price says. "In 2003, Terry McDonnell [SI Magazine Group editor] said that we would take an integrated approach to the two media. We've ingrained in our writers and editorial organization that we really needed to be thinking about the fan 24/7 in news cycles to make the digital assets stronger."
The approach is working. Digital revenues for Time Inc. increased a sizeable $20 million year-over-year. That growth is mostly led by Sports Illustrated and CNNMoney. For the sports bible, digital revenue contributes roughly 15 percent to the brand's bottom line, Price says. And it's on pace to be close to 20 percent this year. "That becomes a very serious business," he says.
Some of SI's new initiatives, including Fan Nation, a Web destination that aggregates, filters, and customizes player and team content in real time on the Internet, have been responsible for the growth. This summer, it will launch the first full Fantasy Football League on Facebook. That will take the brand to an environment where Millennials are aggressively engaged and give them the opportunity to interact with SI, Price says. "We went beyond looking at 3 million magazine subscribers to think about 59 million avid sports fans and the opportunity to serve a larger audience on the Web and it opened up the possibility to bring those users back to the core magazine franchise," he says. "Time Inc. understands its opportunities in the digital space to go beyond the core magazine subscribers they serve."
SI Digital took one very important step, which has proven a huge success in attracting new digital readers: it revamped its search engine optimization. "There are so many ways to navigate the Web through search engines, we wanted to get more of our fair share from direct leads from search engines," Price says. That effort has paid off. In the past eight or so months since it revamped its SEO, the group has seen a 59 percent increase in search engine traffic. In the first quarter of the year, SI Digital enjoyed a 21 percent spike in natural traffic growth—those users bookmarking or typing "si.com." That growth was on top of a 28 percent increase in the fourth quarter of 2007. "SEO and organic traffic growth are two of the most important ways to re-engage," Price says.
The increase in digital content and the focus on it has actually driven the average age of the magazine's reader down to 38. For the past decade, the average age hovered around 40 while Time Inc. tried to find ways to connect to younger readers. But the appetite for digital content is growing quickly across all age groups, Price says.
Driving the Two-Way Conversation
Another change Millennials have brought to media is their desire for a two-way conversation, instead of the typical equation of one magazine to many readers. That happens to work very well for Sports Illustrated, since sports is about a two-way conversation, according to Price. One of the ways the magazine gets more readers involved is through Fan Nation. The Sports Illustrated Group is believed to have paid about $20 million to acquire the brand and its technology in 2007. It relaunched it last April. The site started with 10,000 unique visitors and is now doing up to 5 million unique visitors a month with 60 million page views.
"This really appeals to younger consumers, who want to share their thoughts," Price says. "Look at the heart and soul of what really good magazines have been—they've created great experiences for readers. What we've done with the launch of Fan Nation and now Fantasy Game is continue to think about the experiences around our brand and try to make those experiences relevant to consumers to spend their time with us. That's what's lead to our success, that focus on the user and consumer leading to a deeper, richer experience."
Another quality attributed to the young readers is a fearlessness matched with what seems to be an innate BS detector. While Millennials may be up for anything, they want authenticity. The fearlessness has been both a bonus and a challenge for Seventeen. While the publisher can try a million different things and ways to reach them, it's also a challenge to find what will work best. "The secret is to use each platform to its advantage," Shoket says. While print is great for beautiful photographs and in-depth stories, online is great for interactivity, research, quick bites, she adds. Mobile networking is also part of that. Shoket says that for it to really work, each component has to be strong on its own.
Price agrees. "The key point here is that doesn't mean that you don't focus on still delivering the best sports magazine in the country. We haven't walked away from the magazine in favor of these other platforms. You have to continue to produce a great magazine that's relevant but you need to be relevant in other forms, too."