Like most industries, publishing cycles are increasingly becoming more and more automated. Even editorial actions are becoming computerized, with companies like Kapost creating products that electronically orchestrate pitches, assignments, calendars and revisions in addition to managing author performance and payment.  
While sales teams now rely heavily on services such as cloud solution Salesforce.com as a CRM tool, publishers' production teams are finding their own set of technologies to get the advertisement from the client to the printer quickly and efficiently.
Before automated processes were introduced to the magazine production world, staff often received ads from clients in the form of CD-ROMs. Tom Colaprico, vice president of operations at Time Inc.'s Lifestyle Group, says these were a welcome change from the sets of film previously used to deliver advertisements to publishers. "Years ago, when I was working on ad production for weekly magazines, we were working with 8 to 10 plants, and we'd require 8 to 10 sets of film for ads."
With the current ad automation, Colaprico says, "Now we're so nimble, if a press time is at 3 p.m., you can get changes just hours before and still get the ad in on time."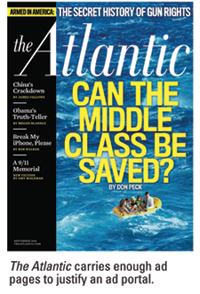 Converting Clients
In 2008, when the ad portal was still being introduced to the publishing industry, some publishers were hesitant to get on board with the new technology. According to FOLIO:'s 2008 Manufacturing and Production Trend Survey, only 22 percent of publishers surveyed were utilizing ad portal technology. Today, that number is up to 27 percent.  
Some publishers aren't on the automated cycle quite yet. John Kefferstan, production director of The Atlantic, says not all publications in The Atlantic Media Company are using the new technology. "Other groups are still using traditional methods, processing the files themselves and putting it through a flight check process," he add. "For The Atlantic, we have enough ads that an ad portal made sense."
Kefferstan broke down the ad portal process: "SendMyAd makes sure what the client is supplying meets our trim, puts in the individual files based on the size of the ad and marches the ad through a standard pre-flight process." SendMyAd will also flag RGB color and density issues, and suggest conversion to CMYK.
Finding Tools That Work
At American Lawyer Media (ALM), the production team utilizes Heidelberg's prepress technologies to rip advertising files. John Cusmano, print production manager at ALM, says Heidelberg establishes color balances and completes the file preparation process before sending to the printer.
To prepare ads for the prepress treatment, ALM's production team uses an Acrobat plug-in called Pitstop Pro, a product from Enfocus BVBA.  Using this, staff will update any part of the ad not up to spec, "If we get RGB files, we convert those. With fonts, we'll embed them if they're not in the file," says Cusmano.
After this, ALM sends the files to Heidelberg. If problems arise, ALM either retrieves a new file from the client or approves the issue using staff discretion. Ripped files are then sent to ALM's printer, which uses Kodak Graphic's InSite proofing system.
New Product, Better Results
When Time Inc.'s Lifestyle Group productions initially entered the ad portal space about four and a half years ago, the team used Vio's desktop ad portal. Colaprico says the ad portal was put in place in tandem with a virtual proofing system, which he remembers as "a pretty tough sell". Vio created some frustration on the client side, as advertisers often reported downloading issues.
Time Inc. converted to web-based SendMyAd two years ago, and is more than satisfied with the results. With a cloud-based tool like SendMyAd, the global scale the production team initially aimed for has been achieved. "We produce editions overseas [for titles] like TIME and Fortune," says Colaprico. "Now, we get e-mail alerts when we receive the ad. If it doesn't pass through the flight check, it lets the advertiser know so they can fix and resend it."
The Lifestyle Group is now using SendMyAd to accept web ads, as well as advertisements for digital editions on the tablet platform.
As for publishers' early worries about advertiser hesitation to take advantage of the automated ad submission process, production staffers are finding them to be unfounded.
By including the advertiser in the pre-flight process, clients are granted a creative tool to manipulate ads to meet their standards, says Kinwah Lam, director of digital development with Time Inc.'s Lifestyle Group. "We have different magazine template sizes for each of our publications; our monthlies are larger than our weeklies. Advertisers now have the freedom to position their ad in terms of the magazine's template size."