Mark Wilkie

CTO, Buzzfeed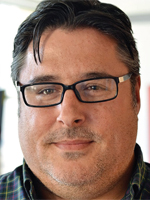 Takeaway: Wilkie's ground-up construction of Buzzfeed's tech infrastructure is at the vanguard of the vertical integration approach to site development.
Of the many online-only media companies that have enjoyed rapid growth in the last few years, few have pivoted as quickly as Buzzfeed, which is now in the middle of leveraging its rapid-fire, socially- and list-driven content into longer-form, investigative journalism. Through it all, CTO Mark Wilkie has overseen the development of a tech infrastructure that combines data, content management and operations for a site that now counts 85 million monthly unique visitors.
Like other digital media companies—Vox and Say Media, for example—Buzzfeed has championed the vertical integration approach to site and infrastructure development, building its tech from scratch instead of buying it off the shelf.
"In some ways, a bootstrap company that buys stuff off the shelf is up and running right away, but they become constrained to that," says Wilkie. "As a company grows, they can also outgrow those tools. When Buzzfeed started, we were much more in an R&D mode. It was more than just publishing content to a site. By building it ourselves, it gives us more flexibility to move the platform in a way that makes sense for us."
Yet the approach goes beyond simple flexibility. It supports the site's product-driven approach to development, enabling the custom ad platforms that have helped Buzzfeed, according to CEO Jonah Peretti, reach profitability in four years.
Meet the Author
---