Mark Golin

Editorial Director, Digital, Style & Ent. and Lifestyle Groups, Time Inc.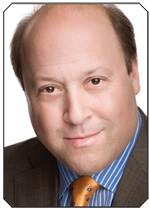 Golin is leading the charge for transitioning his group's brands into a multiplatform, multi-device world.
You could argue that the bigger the brand, the harder it is to scale that brand across a multiplatform environment. Yet Time Inc.'s Style & Entertainment and Lifestyle groups have been particularly adept at this strategy.
Heading that up is Mark Golin, who says that a core strategy for the brands is going beyond the Web-centric, desktop world—way beyond. "We see this from a few titles, and strongest with People, but there are more and more users who are accessing our sites not on their desktops but on their tablets. We can even see the cycle of it—desktop during the day, tablet at night," says Golin.
In his role, Golin is focused on growing the digital properties for People, InStyle, Entertainment Weekly, Real Simple, Health and All You, among others—15 brands in all. As he notes, tablet and mobile strategies have been a core focus, as has social media. Golin was part of the team that brought all 21 Time Inc. magazine brands to the tablet by early 2012.
On the Web, aggressive moves with HTML5 are underway, and not just to simply augment sites with partial swipe capabilities. "[In late April] we launched a tablet optimized version of People.com. It's probably one of the first sites out there that swipes on both the x and y axes," says Golin.
In March, Golin projects that tablets alone will contribute 60 million page views. Smartphones accounted for 4 million uniques in January, 120 million page views were delivered via mobile alone.
Social platforms have exploded as well, with People leading the charge: 1.5 million likes on Facebook and more than six million followers on Twitter combined for People and its various brand extensions. Yet Golin is already looking at next steps in social: "It's been great to publish to these and get nice traffic back to the sites, but what we are starting to ask ourselves is, What is the inherent value of the interaction of the users?"
VITAL STATS: Golin has helped bring all 21 Time Inc. brands to the tablet. Under his watch, mobile now contributes 4 million uniques and tablets attract 2.5 monthly uniques.
Meet the Author
---