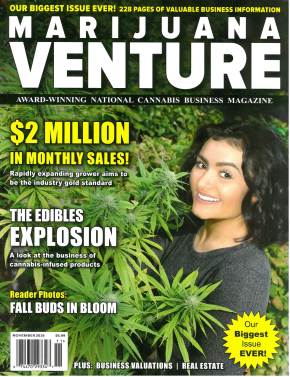 America is in the midst of a cannabis gold rush – or perhaps more appropriately, a green rush – and with it, an unfettered flow of new trade magazines lining up to serve the growing market alongside the lifestyle-oriented standbys like High Times.
Standing out in such a crowded space, mired in legal uncertainty but undoubtedly poised for further growth as more and more states drift toward cannabis legalization, is a complex undertaking.
But Marijuana Venture publisher Greg James appears to have found a foothold. What began in March of 2014 as an eight-page folded newsletter containing just two advertisements has subsequently grown into a glossy, 200+ page monthly magazine, boasting a controlled circ of 30,000 licensed cannabis growers and further distribution in Barnes & Noble and Hudson News, among other retail outlets.
"We doubled our page count every month for the first four or five months," James tells Folio:. "We went from eight pages to 32 pages to 60 pages really quickly. By issue three or four we were glossy, and by issue six or eight we were perfect bound, and the rest is history."
Key to that growth, says James, has been a careful devotion to brand identity – positioning the magazine as a serious-minded publication for serious businesspeople. The feature well swaps out musings on dealing with an unreliable pot dealer or tips on where to buy seeds for contributed columns by attorneys, consultants, and accountants, or best practices for staying in compliance with government regulations.
"That's just not the kind of stuff you'd find in High Times or Weed World or Skunk, whose articles tend to lean towards how to grow pot in your basement or your closet or your garage," James adds.
That identity extends beyond the magazine's content to the advertisements seen on just about every other page in the book, James says, recounting a story about a Canadian manufacturer of plant trimming machinery, who bought a full-page ad in one of Marijuana Venture's early issues.
"[The ad] had this suggestive looking girl in a black leather bikini sitting on the machine," James explains. "They were going to pay for a full page ad at full price, so we said, 'Let's just run it and see what happens.'"
Within a week of the issue's publication, James's office began receiving calls from other advertisers complaining about the racy nature of the ad.
"In the end, we realized that it really does matter to the advertisers. They don't want those kind of ads in Marijuana Venture. So we have never, since then, run one of those ads that features sex to sell something. We've kept the magazine with a really clean look. We tell people all the time, 'Send the ad back, but get rid of the girl.'"
The green rush catalyzed by the slow but steady domino-like toppling of state-by-state recreational or medicinal cannabis prohibition has led to an influx of eager but inexperienced entrepreneurs; James estimates that of the 1,000 licensed commercial marijuana growers in Washington state, maybe five percent have any actual background in commercial agriculture.
In that spirit, Marijuana Venture looks outside the industry for sources of business intelligence. James contacted, for example, colleges and universities with controlled environment agriculture programs, like the Universities of Arizona and Michigan, or Cornell.
"The universities themselves don't really want to get involved because they're federally funded," James adds. "But we managed to find some people who were more than happy to write about the commercial cultivation of short-day annual plants like cannabis."
As with the advertisers, this sometimes means taking the difficult step of declining high-profile contributors whose columns appear in competitor titles.
"I can grow cherry tomatoes in my backyard and they kick ass, but that doesn't mean I know how to run a tomato hothouse," says James. "No disrespect meant, but we want to run articles by people who have experience running commercial farms and facilities."