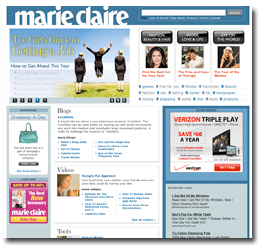 With improved navigation and more daily and Web exclusive content,
Hearst Magazines' Marie Claire is starting the year off with a Web site
redesign that will debut on Jan. 15—its third since splitting from
iVillage in 2007. The redesign, the magazine hopes, will drive traffic
even higher than its record month in December '08 and make the site
more attractive to advertisers.
MarieClaire.com, which
currently has three main channels, will be expanded to eight (Fashion,
Hair & Beauty, Health & Fitness, Lifestyle & Celebrity,
Career & Money, Sex & Relationships, World Reports and Games
& Giveaways), thus making it easier for users to find what they're
looking for.
"We're basically taking all of our second level navigation
and moving it up to the first," Ashley Parrish, senior Web editor,
MarieClaire.com, told FOLIO:. "So instead of the user having to
do four clicks to get to a certain article, they now only have to do
one."
The magazine is also looking to beef up its daily content and video
offerings as well as emphasize its Web exclusive content, such as blog
postings and horoscopes. "We want to show that although we're a monthly
magazine, we're also a destination that our readers can come to on a
daily basis," Parrish said.
MarieClaire.com saw one of its best months in terms of Web traffic
just last month, according to Parrish, with 17.4 million page views (up
from 3.3 million during the same period in '07) and 3.8 million unique
monthly visitors—so why the desire to make changes now?
"Through each of our redesigns, we've really listened to what our
readers are looking for," she said. "We now just want to keep those
numbers elevated and moving in an upward direction. We want to raise
the time our users spend with us as well as offer new mediums like
tools and calculators in order to make the site more interactive, fun
and clean."
Marie Claire's print circulation also appears to be healthy: the
first-half of '08 saw a 2.7 percent rise—from 971,438 to 979,529—in total circulation over the same period in '07, according to ABC
publisher statements.