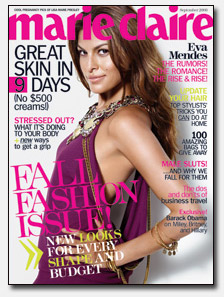 Hoping to tap into the booming reality TV market, Hearst's
Marie Claire has partnered with the Style Network to produce "Running in
Heels," a weekly series chronicling the lives of Marie Claire editors, writers
and interns.
"This is the first docu-series in the history of the
magazine," Marie Claire editor-in-chief Joanna Coles said in a statement. The
series will "offer unprecedented behind-the-scenes access to Marie Claire and
the stylish, smart women who put the magazine together each month," Coles said.
In addition to covering their workdays, "Running in Heels"
will capture staffers' personal lives in an attempt to "uncover what it means
to be a working woman in the cut-throat, exhilarating world of a top fashion
and beauty magazine," Hearst said in the statement.
Also involved in the program will be recently-named fashion
director Nina Garcia-the former Elle fashion director and "Project Runway"
judge, a Hearst spokesperson tells FOLIO:. When asked about the program's
revenue model, the spokesperson declined to comment.
The eight-episode series is set to debut in March 2009.