Menswear

Fairchild finds success with a consumer/b-to-b hybrid.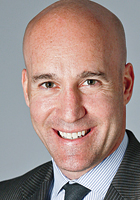 At
the height of the media and financial crisis more than two years ago,
Fairchild Fashion Group folded DNR, the weekly news magazine that had
covered the men's fashion business since its founding in Chicago in
1892.
"It was a very sad day for the men's industry," said Marc
Berger [pictured], a Fairchild publisher. For nearly two years as the recession
wore on, Fairchild covered men's fashion by supplementing its flagship
publication, WWD, with men's fashion news for die-hard industry
followers.
"Jump ahead a couple of years," Berger recalled
recently, relishing the happy ending. "Based on what was happening in
the economy, and with the men's industry beginning to show better
results, it was time to get back into the men's game."
Profitable After First Issue, With 36 Percent Sell-Through
Last
spring, Berger and a small team of editors proposed launching a
magazine called Menswear, using the WWD sales staff and the team of
men's editors who had stayed on when DNR folded. The project was quickly
green-lighted, and within three months they produced a glossy 76-page
fashion magazine with actor Jeremy Renner on the cover and stories about
the "retrosexual revolution" and "the J. Crew factor" sprinkled inside.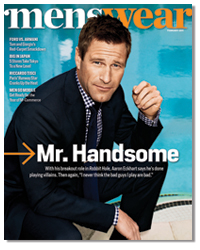 Menswear,
also the title of a previous Fairchild publication, debuted in June
2010 with a circulation of 50,000. Berger—now publisher of Menswear and
Footwear News—said the sell-through rate was 36 percent for the $6
per-issue magazine. He said it was profitable after the first issue,
though he declined to provide details. A second issue—this one with
actor Sam Rockwell on the cover—appeared in October, also with a
circulation of 50,000. Sell-through rate statistics for the second issue
aren't yet available, he says.
This year the magazine will go to a
quarterly schedule, appearing January, March, June and September. Its
circulation base will increase to 75,000. Eventually, the hope is to
grow the circulation base to 100,000, the same size as the old Menswear
magazine, he said.
The first issue included 35 advertisers—Burberry, Perry Ellis and Giorgio Armani among them.
A Consumer/B-to-B Hybrid
Berger
said Menswear will operate as a hybrid magazine—partially serving those
involved in the men's fashion business and partially serving consumers
of men's fashion. "The look and feel is going to continue to evolve,"
Berger said. "We're going to continue to put celebrities on the cover.
We want this to be an exciting magazine."
About half of Menswear's
readers are those serving the trade, particularly the 15,000 previous
DNR subscribers. Berger said Fairchild also shipped 10,000 magazines to
the top 100 men's specialty stores in North America for use as gifts
with purchase for their customers.
 The other half of Menswear's
readers are men's fashion consumers, he said. They include newsstand
buyers in New York and Los Angeles (with Chicago in the mix in 2011),
plus about 15,000 male readers of Conde Nast magazines with household
incomes of $250,000 who were sent the magazine for free.
Menswear
is sticking to an ad-supported and newsstand revenue model for the
foreseeable future, Berger said. He'd like to include subscriptions in
the list of revenue streams, but he doesn't expect that to happen soon.
Right
now, he said, Menswear is a profitable little business. Then he added:
"W Magazine was born from WWD. We don't know the future, but this could
evolve into something bigger."
Meet the Author
---