Marathon & Beyond Reaches the Finish Line

Citing insufficient funds, title to shut doors after 19-year run.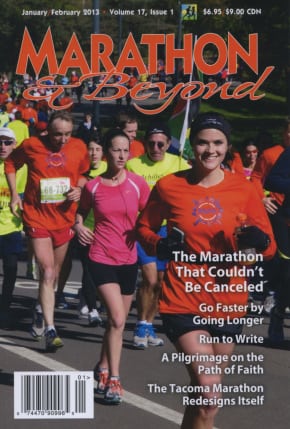 Marathon & Beyond will cease operations following the publication of the brand's November/December 2015 issue, the 114th in the bimonthly magazine's 19-year history. Founding editor Richard Benyo confirmed the news in a letter to subscribers originally intended to be included in the final issue, but posted online after the news leaked on social media.
"Although Marathon & Beyond has, for some years, offered a companion digital edition, the income from both that and the print edition are no longer sufficient to sustain the publication," Benyo writes.
Established as a reboot of the short-lived 1970's magazine The Marathoner—itself born from the popular marathon-focused January and February issues of Runner's World, for which Benyo was executive editor—Marathon & Beyond promised to help readers "run longer, smarter, better," featuring the latest news from the marathon beat, expert answers to reader-submitted questions, athlete profiles, editorial commentary and sprawling feature articles in six-by-nine inch issues averaging 192 pages in length. One-year, six-issue subscriptions cost $39.95.
"Due to a steady decline in subscriptions over the past several years, the magazine is no longer able to sustain itself in a media environment that is rapidly—and inexorably—changing," continues Benyo. "We can also theorize that in a world where quick, easily digested information blasts have become the norm, long-form articles that require a sustained attention span have begun to languish."
Benyo helped save Marathon & Beyond from a premature demise in 1998 when he co-founded 42K + Press with publisher Jan Seeley when original owner Human Kinetics seemed poised to shut down the then-year-old magazine.
"In some ways the magazine has grown like a child that came through a troubled infancy, made it safely through the terrible twos, skipped through childhood, expanded its horizons in the teens, and then, at 19, got hit by a bus," added Benyo. "At least, that's how it feels."
Meet the Author
---