The Many Models of E-commerce

Editorial integrations remain critical.
After what could be described broadly as a rocky start for e-commerce as an alternative revenue stream for publishers just a couple years ago, it has managed to evolve into a legitimate model for many. Some got the hang of it early, while others ricocheted between platforms and functionality. What has remained a constant, however, is the role content plays in the mix.
Condé Nast's Allure, which launched a site-wide commerce model two years go and has grown to more than 5,100 "buy buttons" across Allure.com, embeds the shopping experience in the content. The point was to allow commerce to be editorially driven as well as to keep visitors engaged on-site. "Buy buttons were added to product review pages, and later to content and slide shows, enabling readers to conduct their entire transactional journey on the site," says Marie Jones, Allure's managing director of digital media and director of communications. "Using buy buttons allows our content to lead commerce. Every product on the site is selected by editorial regardless of whether it will be available for purchase."
Allure partnered with commerce platform Quidsi, which already sells products on BeautyBar.com and Soap.com. The former has features luxury brands while the latter sells brands at more mass price points. That range of pricing, which matched up with the Allure reader's shopping patterns, and the platform's strong customer service were two critical factors influencing the partnership.
Revenues from sales are split between Allure and Quidsi, says Jones. Allure.com attracts about 2.6 million monthly uniques, per Omniture.
The Advertiser Connection
Another editorially-driven concept spun out of the Allure Best of Beauty Awards—a print franchise, and a seal of approval, since 1996 that recognizes standout beauty products—which became the Pop-Up Shop. The concept ties together e-commerce, community, brand sponsorships and a deeper integration with the Quidsi/Soap.com partnership.
"The Pop-Up Shop on Allure.com features original and aggregated editorial content, plus 25,000 product giveaways all from participating P&G Beauty brands," says Jones.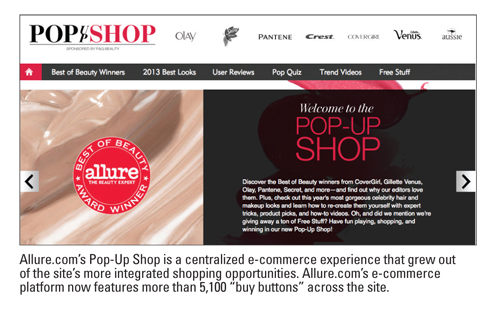 Procter & Gamble, an original in-book sponsor of the Beauty Awards, was the primary supplier for the Pop-Up Shop. Visitors can purchase the Beauty Award products in the same way they can throughout the rest of the site, and since P&G had inventory already available on Soap.com, the integration made that much more sense.
The idea was extended yet again, adding a microsite and dedicated branding for P&G products within the Soap.com environment.
"In addition to the buy buttons, a microsite also features special weekly offers by P&G brands when Allure.com visitors shop at Soap.com," says Jones. "Also, Soap.com is now hosting a dedicated P&G Allure Best of Beauty winners storefront that features content from the Pop-Up Shop on Allure.com."
And e-commerce is not just about selling product. Its benefits extend to marketing partners as well, where exclusive marketplace formats like the one with P&G can be a part of the sales conversation.
"For our larger editorial and advertising integrations, e-commerce is an essential component," says Jones.
Meet the Author
---