Managing Print Profitably

Deciding to contain costs, invest—or both—in legacy products.
It wasn't too long ago that print was considered the center of the wheel from which all other product platforms sprang out of. That's still the case for most traditional publishers, but the newer product platforms are where all the action is now. Companies are declaring "digital-first" or "mobile-first" strategies with brand spin-offs that are anything but print.
So where does that leave the print products, the very brands that gave credence to the digital products and events that are now commanding greater shares of the topline as the magazines plateau or even contract? For some, it means feeding print just enough sustenance to keep lending the other platforms the brand equity needed for audience growth-while the vast majority of the capital investment is poured back into everything but print.
You don't have to look very far to see the trends. According to ABM's most current BIN numbers through August 2013, year-to-date ad pages declined 7.5 percent. Comparing that to the same period from 2008, b-to-b print advertising has declined 37 percent in pages. Most b-to-b publishing leaders will tell you that they don't expect those pages to return.
On the consumer side, full-year numbers provided by PIB show a 34-percent decline in ad pages between 2008 and 2013. The MPA has moved, smartly, from cheerleading print to a focus on magazine brands' cross-platform audience and advertising footprint.
And that's the story most traditional publishing CEOs will tell you. The focus is not on print anymore, it's on total reach. More specifically, it's about growth in digital and events.
The Value of Print
Executives say that readers and advertisers still value print, but those groups are shrinking.
At IDG, which among the other tech-oriented publishers has been a canary in the coal mine with its strategy of managing print against other lines of business, there's been a push towards digital and events for years. In the IDG Enterprise division, which has brands such as Computerworld, Infoworld and CIO, print revenues are now "comfortably under 20 percent" of gross, says IDG Enterprise CEO Matt Yorke.
"Print to profit is definitely something IDG has been talking about for at least five years," he says. But looking at print's contribution to the overall revenue pie has become more complicated. There's the pure financial allocation, but there's also the less tangible strategic view.
"We also look at it strategically in terms of the equity that print brings to the brands. The value, for example, of having a print vehicle that supports robust digital and event offerings. And if so, where is that value derived and how do we do our best to quantify that? Are we prepared to look at it as a marketing expense? Or do we think a particular brand has reached the point where there's far more value in digital and events and having print is actually stopping us from doing other things-therefore there's a negative value?"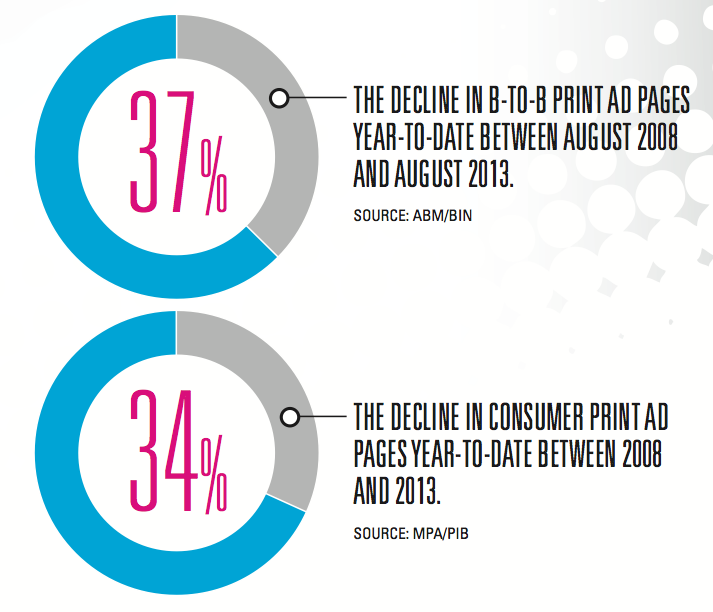 The flip side, adds Yorke, is looking at opportunities that might become available if print wasn't part of the equation. They could be taking those resources and investing in platforms that offer a higher path for growth.
Active Interest Media, an enthusiast publisher in the outdoors, home, horses and marine markets, has a more stable view of print, but that's likely going to change in the long term. Print is still relatively strong in niche enthusiast markets, says AIM's president and COO Andrew Clurman. Aside from the newsstand, which is extremely challenged right now, subscription and advertising revenues are positive.
"We haven't seen any discernible fall-off in subscription interest and renewals or the core metrics around reader engagement and satisfaction," he says. "And for the overall print mix, we have been flat to slightly up in pages on a global basis."
Accordingly, Clurman says the company is putting about 25 percent more capital towards traditional consumer marketing efforts-direct mail, email marketing and other promotions. But there needs to be a payoff on the other side. The investment isn't arbitrary or done simply to prop up print.
"We're doing that based on our estimation that we're actually going to get a return on that," he adds. "So I think that speaks to the power of print in our markets."
Print revenues overall are just under 50 percent at AIM, with events adding 45 percent to the top line.
Nevertheless, when taking a longer-term view of print AIM is hedging its bets. The outdoor group, for example, is moving much more quickly towards a digital mentality, at least from a customer perspective, where marketers have become very sophisticated with their own earned and owned media efforts. And as that digital favoritism creeps into other markets, print's growth curve becomes pressured. Even now, Active Interest Media has a very conservative outlook for print.
"We don't see print as a growth business for us," Clurman says. "Our strategy is to go find the premier legacy media brands in the special interest markets that we're in, and those are almost entirely print magazine brands. That's the gateway and it gives us access and credibility to do all the other stuff which is to surround the print brand with events, digital and services."
The Influence of Print
At the same time, print still holds a cross-platform influence. "If you let the print brand slip, then people in those markets, whether they're readers or advertisers, will think the brand has lost its luster. That has an impact on everything else we do," says Clurman.
That role that print plays, for traditional media companies, can't be underestimated-at least for now. While publishers are scrutinizing print's P&L much more closely to determine where to cut bait or control costs, it still holds great influence over a brand platform.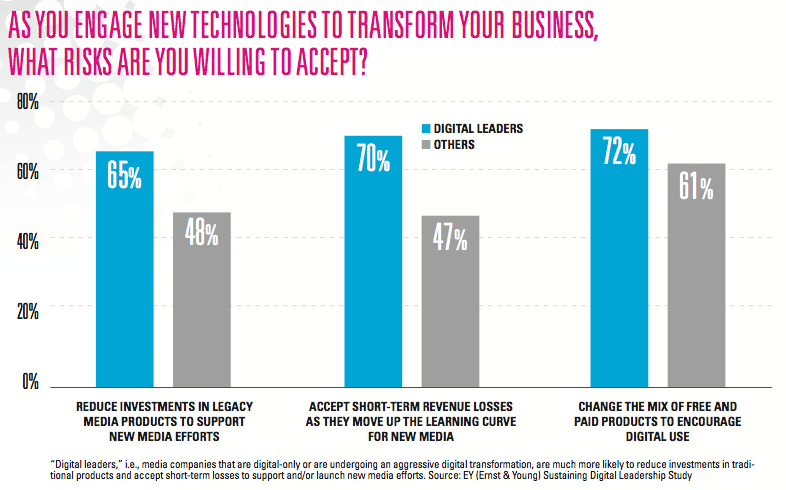 "What still drives that content and brand is the positive legacy of print," says John French, CEO of Cygnus Business Media. "You might not have as many issues as you used to or the circulation might not be as high, but there's still an identity that drives a lot of those new products."
French adds that while print may be maligned, even by some legacy companies as they try to emphasize their digital efforts, print still makes a crucial contribution. "I think if every CEO was honest, they know they don't want to die by print, but they know without it right now they probably would die. That's a really big challenge," he says.
Print Investment
When investing in print, levels vary, but it's generally limited. AIM is investing where it sees a return. French says Cygnus has invested in upgrading the design of the print brands to mirror the sexiness of digital. But IDG Enterprise's Yorke says investment in print is little to none. "As we look at the business, we're not investing in print. We're no longer doing a BPA audit, for example, because no one has raised it recently. We have some established brands in the marketplace and there are some print buys-water always makes its way to the bottom. But gone are the days of us battling Ziff and CMP and swinging millions of dollars of revenue in either direction. That's just not happening."
At Hanley Wood, in the last 24 months or so since Peter Goldstone was named CEO, the company has embarked on a digital-first strategy that has reorganized its stable of print brands to a tiered value system.
First-tier brands, identified by their high-value readers and customers, get the full multiplatform treatment: monthly print issues, a robust digital offering, events and marketing services. Second-tier brands will have the same mix, but with a reduced-frequency print magazine-bimonthly or quarterly. Third-tier brands, where there isn't enough revenue to support print, are digital and events only. 
"A digital-first operating structure supports print as a by-product, as opposed to having print as the core and supporting digital, which is the legacy model," says Goldstone.
As a result of that reorganization, Goldstone says that while the majority of capital investment has gone towards technology and data infrastructure, as well as new talent, print is getting some resources too. Only now, the company can better determine where to best allocate the funds.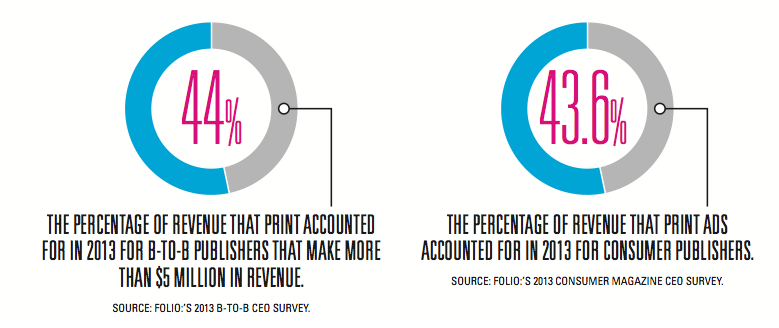 "By reducing our print portfolio and taking a lot of ad page capacity out of the system and focusing on the high-value audiences that deserve a print companion to the digital effort, we're able to move investment back into print because we're not splitting it 38 different ways. We can invest around the big bets we're making as opposed to lots of niche publications."
Publishers also have to be wary of sentimentality. Most companies launched with print and spent the majority of their existence profiting from it. Letting go is tough, but sometimes necessary. The trick is not holding on to it when it's having an adverse impact on the rest of the operation-especially the ability to expand into new opportunities.
"The real challenge is an emotional attachment," says Yorke. "But are you prepared to go backwards to go forwards? If you launch a new business, you're not necessarily going to launch at the same level that you may have in print today. If you make that decision are you prepared to take a step back in terms of top-line revenue to move forward into higher growth areas and stronger contribution?"
In terms of reviewing those opportunities, IDG Enterprise takes a quarterly look at the operation. "Plans are written annually, but we're looking at every line of business quarterly and we're constantly thinking about the various activities and how we're deploying our resources, both financial and people," says Yorke.
With these publishers, print is still highly valued across particular markets, but it's definitely pressured. Its long-term viability is in question. Cygnus's French sees an opportunity to maintain quality even as print shrinks, with content personalization being a high-potential possibility. Nevertheless, the outlook is generally pessimistic.
"You get to the point where it's about being brave enough to say we no longer want to engage in this activity because there are other activities we want to engage in longer-term that are much more viable," says Yorke.
Meet the Author
---