Managing Outsourced Staff and Suppliers

How to avoid workflow headaches.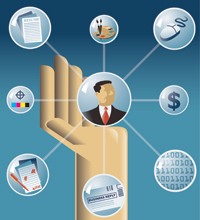 Few topics are as touchy as outsourcing. But as budgets shrink, it's becoming more of a reality for publishing disciplines across the board, from design and production to edit and circulation.
"Independent publishers probably need less internal staff on the production and circulation sides," says Henry Donahue, chief executive officer at Discover Media. "A lot of these functions have been picked up by big vendors. Your printer, paper broker, subscription fulfillment house—they have been fighting for market share and adding more and more on the service side."
But the key to successful outsourcing is making sure vendor and client are on the same page. Discover Media outsources its newsstand management and market research. "Those are straightforward," says Donahue. "We have a regular set of weekly reports and more formal monthly meetings with our newsstand guy. Their job is to be very accessible."
Put It In Writing
In 2006, Thomas Publishing (now ThomasNet) went online-only and farmed out much of its editorial to India. "It's a highly skilled, educated workforce," says publisher Paul Gerbino. "They have high speed Internet access and the business culture is very close to that of the U.S. (even if the writing style—which tends to be British—is not)."
Gerbino suggests U.S. publishers write up a request for a quote, particularly when dealing with an offshore firm. "If you can't write it down, the vendor will never understand it," he adds.
ThomasNet made its remaining U.S. editors part of the quality training and adjusted its content management system to create a feedback loop. ThomasNet also hosts monthly meetings for its Indian reps at its New York City office. "When they press the flesh, the barriers start to break down," Gerbino adds.
Indian freelancers cost about half as much as U.S. freelancers and ThomasNet almost tripled content production from 700 pages to 2,000 pages, Gerbino says. However, be prepared to reign in your partner. "The vendor wanted to write more but we said no to keep quality up," he adds.
Real-Time Updates
Outsourcing sales is typically more accepted and transparent than outsourcing other publishing disciplines. Often the outsourced sales rep works in conjunction with the in-house sales staff.
Rep firm James G. Elliott specializes in taking over a publisher's sales function completely, and that's what ABA Journal was looking for when it decided to court advertisers beyond just the legal industry. "We had great relationships with endemic advertisers who market to lawyers," says editor and publisher Edward Adams. "But our half a million readers are also businesspeople, who travel, who buy office supplies, you name it. We partnered with Elliott because we could use their experience without having to train people up."
To communicate with Elliott, ABA Journal uses a variety of forms, including a program called Datatrax that manages the ad sales process from start to finish. ABA Journal also gets weekly reports from its six Elliott reps and hosts sales meetings twice per year. "Our expenses are significantly lower than when we had an ad sales and marketing staff," says Adams. "They've also brought in advertisers of the sort we're trying to get, like Intel and Ritz-Carlton."
Meanwhile, American School Board Journal recently tapped rep firm Fox Associates to handle its ad sales. Fox has set up an automated Call Report system that provides detailed information on a call-by-call basis. "We're estimating that outsourcing this function will give us a full, nationwide sales force at about the same cost as salary, overhead, and expenses for one high-level, full-time staff salesperson," says associate executive director and publisher Marilee C. Rist.
A Process Checklist
Determining what the client wants is key. Bates Creative Group, which handles print design, has an established process for identifying the client's concerns. "We talk very clearly with the prospect about our philosophy and process for redesign," says president Debbie Bates-Schrott. "At the RFP stage, we ask questions to determine what services they will really need. Do they need editorial consulting and not just design, for example. If we do not feel that the client is a good fit, we can tell from these early discussions. This could be based on style of communication, budget, design and magazine philosophy and possibly schedule."
The process includes:
• An in-person kick-off meeting. Bates sends a questionnaire ahead to the client to prepare. It covers things like target reader characteristics, defining the competition, editorial planning, etc. Bates also writes a creative brief which they use to measure everything against.
• The creative process is about six weeks (depending on client launch date). During this step Bates has at least three designers working and is critiquing as a group at least once a week.
• Presentation of three different design directions (Cover, TOC, Department, Column, Feature).
• Feedback provided by client with about two rounds of refinement.
• Once approved, Bates creates a style guide, templates and style sheets ready to use for the first new issue.
Lux Design originally looked to Bates for a redesign and after initial talks, decided to outsource production to them as well. "Based on the cost per issue, it was more cost-efficient to hire Bates than to hire someone in-house," says Lux Design president and publisher Michael Solovy. "As our magazine grows, we'll have to constantly re-evaluate the cost/value relationship.
Additionally, the talent-to cost-ratio was far beyond what we could have found in the Twin Cities."
To coordinate the workflow, Bates provides an issue map and organized the FTP server to avoid confusion. Lux Design details any proof changes via e-mail and Word documents. "We set up some general guidelines and gave Bates creative freedom to execute," says Solovy. "Because they are paid per page, they have a vested interest in making sure Lux Design grows as well."
Meet the Author
---